The central Paris office market was considered a safe haven in 2020 and recovered strongly in 2021. The key factors for this are solid fundamental data and a long-term perspective combined with good conditions for "hybrid working".
In 2021, the letting market in central Paris remained resilient, with prime rents increasing to EUR 930 per square metre. This new high was also driven by strong demand: the city accounted for 43% of letting transactions in 2021, the highest level since 2000. In addition, Paris has become even more flexible in terms of uses and the redesign of offices since the home office trend. The new hybrid working model, combining office work with working from home, has made Paris even more attractive as a centre that attracts workers, promotes interaction and boosts productivity. For companies, the calculation is simple: 20% less office space, but offices in the city centre with the Haussmann 2.0 buildings that are particularly attractive for employees.
Sustainability as a location factor
Paris is known as an environmentally friendly, sustainable location. The 15-minute city concept is helping to minimise CO2 footprints. In addition, Paris was voted the greenest city in Europe in 20181. The greening of Paris was set out as a long-term process when Paris joined the Reinventing Cities initiative in 20142. The aim was to promote sustainable development and to create a green urban future for the city of love.
In addition to pure repositioning, which aims to make properties more resilient3, the initiatives also include converting urban motorways into cycleways, laying out large gardens and converting entire neighbourhoods into pedestrian zones. The aim is to promote green spaces and biodiversity. As a result, the cycleway network in Paris grew from 200 km to 1000 km between 2015 and 2020. Paris has had a green advantage since Covid-19, as companies and employees are now paying particular attention to their CO2 footprint. Cycleways help to promote the switch to a more flexible and self-determined mode of transport. That's why Parisians now prefer to commute to work by bike. In retrospect, tech companies such as Google, Facebook and other international names were pioneers in this regard by also thinking of large gardens and bicycle storage when setting up their headquarters in historic flagship buildings.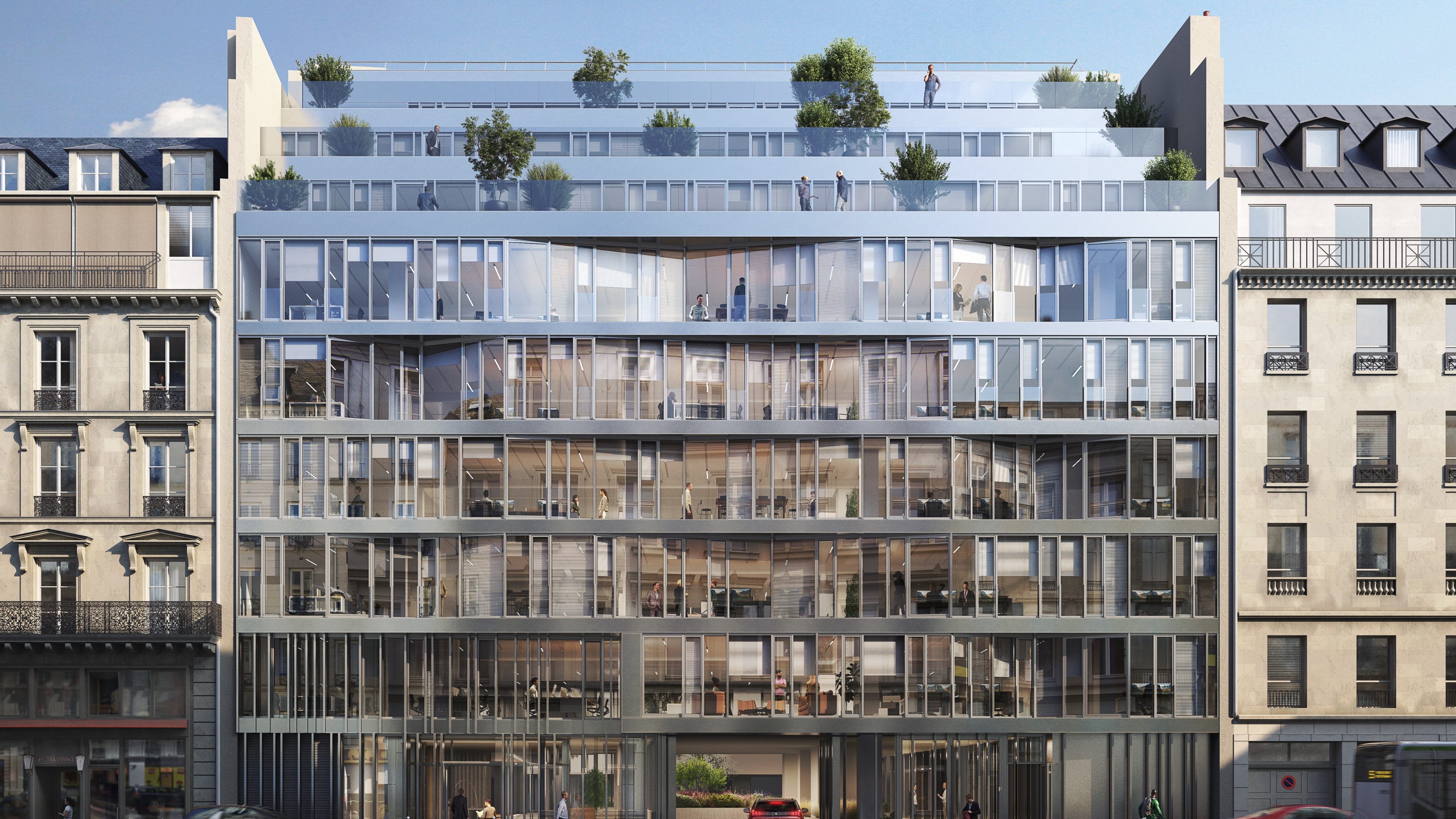 In the heart of Paris: 104, rue de Richelieu.
Paris as an attractive, sustainable pioneer
In line with the Climate Agreement, Paris now aims to reduce its CO2 footprint by 75% by 2050. To this end, renewable energy is being promoted and new clean technologies are being supported throughout the built environment. The robustness of the Paris office market, with high expectations of stable cash flows in a changing environment, is the main reason why Paris is currently so popular among investors. Finally, the fact that Paris is able to minimise its CO2 footprint (scope 34) explains the ongoing bandwagon effect among investors, who see the city as a safe haven over the long term.
1 Essentialliving.co.uk. These attributes correspond to the number of parks, gardens, playgrounds and water areas.
2 Global competition aimed at accelerating decarbonisation and fostering urban regeneration through innovation.
3 Example: Swiss Life Asset Managers in France won a competition where, in 2018, individual properties, such as a public bathroom building in the 15th arrondissement (34, rue de Castagnary), were repositioned as a co-living space for young workers.
4 The Green House Protocol guideline describes 15 different scope 3 categories, such as employee commuting costs. 
Author: Béatrice Guedj, Head of Research & Innovation, Swiss Life Asset Managers, France

Find out more here about the real estate use classes in which Swiss Life Asset Managers is invested.