Although older people would prefer to spend the rest of their years in a sheltered environment, they are quite likely to move to a nursing home later on. A combination of the two forms of housing would be ideal from a medical and economic perspective.
In Germany, there are around 915 000 full inpatient care beds compared with 360 000 assisted living apartments (as at 20211). The available offering therefore does not meet the wishes of most of the older generation to live in a self-determined manner for as long as possible and, at first, in an assisted living apartment.
According to a survey2 from 2020, around one in five respondents from the 50+ generation would like to live in an assisted living apartment, including access to a nursing home, when they are aged 70 or older. On the other hand, only 15% of those surveyed wish to move into a nursing home.
More than a million assisted living apartments are needed
Real estate experts estimate that 4.5% of people aged over 65 throughout Germany need an assisted living apartment. With around 18.6 million inhabitants (at present) in this age segment, there is a current requirement for 840 000 assisted living apartments. With 360 000 apartments currently available, there is therefore an additional need for 480 000 assisted living apartments. Demographic change means that more than a million assisted living apartments will be needed by 2035. This corresponds to around 680 000 extra assisted living apartments by 2035. According to Wüest Partner, demand for nursing home places in Germany will also increase by 157 000 to just over a million by 2035. Comparing the additional need for nursing homes (+17%) with the need for assisted living apartments (+189%) up to 2035, the latter presents a great deal of scope.
Senior housing needs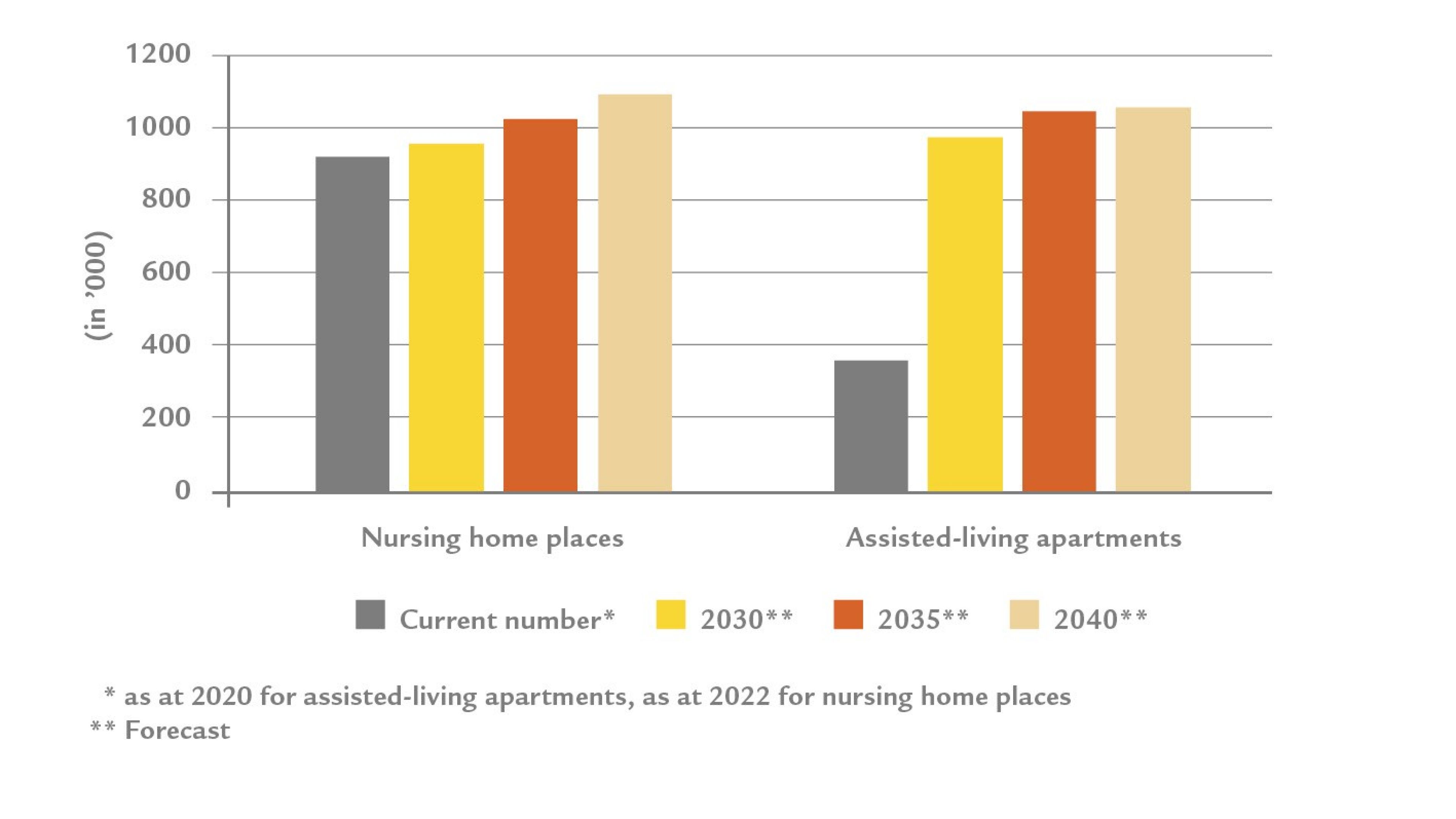 The construction industry is responding
The needs and preferences of this target group have not gone unnoticed by the construction industry. At the end of December 2021, senior housing accounted for the majority (around 40%) of the care facilities in planning and under construction. 
New-build projects in the construction and planning stages, as at December 2021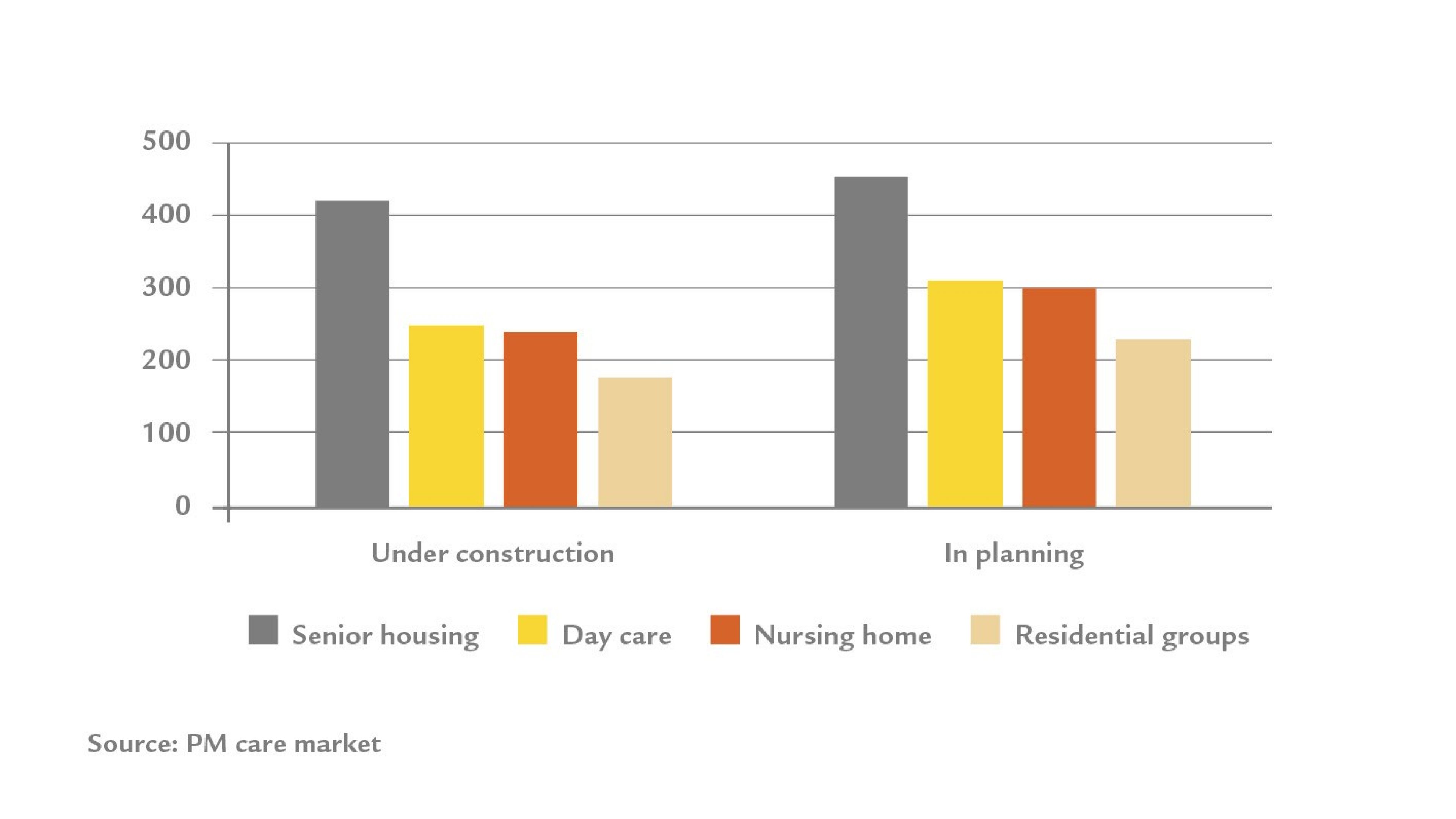 Advantages for residents and operators
The combination of senior housing and nursing home has several advantages. On the one hand, the transition from one form of care to another is smoother in terms of medical and specialist care. This particularly applies to dementia sufferers, who account for around half of the people living in nursing homes today. The responsible Federal Ministry classifies assisted living for dementia patients as a transition to long-term inpatient care.
Secondly, the combination of the two options makes sense from an economic point of view, something that larger operators in particular have already recognised. According to Jones Lang LaSalle, the number of homes that include a retirement home or assisted living in addition to care services has been increasing for years.
Increasing competitiveness, more turnover
Currently, 15% of all planned new builds in the German healthcare sector offer a combination of senior housing and nursing home. Operators of facilities with both types of accommodation will not only be able to offer more comprehensive and diverse services, but will also benefit from synergies in human resources management. All of this increases competitiveness, turnover and returns.
Some operators even go one step further and offer rooms or apartments to their employees.  This creates a strong incentive in the competition for staff when there is a shortage of skilled workers. A positive side effect of employee apartments is that they help to avoid in-house vacancies and to secure cash flow.
In view of the expected developments in the sector, the combination of senior housing and inpatient care, possibly expanded to include staff rooms, is likely to become more established on the market. 
 
1 pm Pflegemarkt.com GmbH
2 BundesBauBlatt
Learn more about real estate use classes and in which Swiss Life Asset Managers is invested: