With the world's urban population set to double by 2050, the real estate sector must adapt fast to avoid accelerating climate change.
Currently, building construction and operations consume 36% of the energy used globally and cause 39% of the greenhouse gas emissions. Construction is the world's biggest consumer of steel, copper and concrete, all carbon-hungry materials. And the UN estimates that buildings account for more than half of the world's electricity usage.
Despite a shift towards more sustainable practices and tighter regulation in recent years, direct and indirect emissions from building operations rose an average of 1% every year from 2010 until 2020 when the sudden drop-off was primarily due to pandemic-related inactivity.
If the sector is to achieve carbon neutrality by 2050, all new buildings and a fifth of the existing building stock will need to be zero-carbon-ready by 2030, according to the International Energy Agency – a goal that is currently off track.
However, the world keeps changing and the momentum for climate transition is growing. Renewable energy was the fastest growing energy source for buildings between 2010 and 2018, growing by 21%, driven in large part by heat pump deployment.
Governments, designers, builders and major real estate stakeholders are taking strides to decarbonise global building stock and improve energy performance across all domains. PropTech companies are emerging with innovative solutions for lowering the carbon footprint of buildings. And above all, investors are making their support for sustainable and socially responsible projects crystal clear.
Paris: an eco-city with a sustainable office market
While strong economic fundamentals have long made the Inner Paris office market attractive to investors, its resilience can also be credited to the city's solid ecological credentials.  Despite the disruption caused by Covid-19 lockdowns, letting activity in the city office market came back strongly in 2021, pushing prime rents to a new high of €930/m2. Rather than causing a mass exodus of workers, the post-pandemic appetite for hybrid working appears to have bolstered the appeal of central Paris as a place to live, work and make connections.It is surely no coincidence that the French capital is so actively pursuing a green agenda that aligns with the 2015 international treaty on climate change signed on its own turf seven years ago. Recent initiatives have included banning cars from some areas once a month, increasing the cycle lane network five-fold between 2015 and 2020, pedestrianising entire neighbourhoods, repositioning under-utilised real estate assets and turning part of a road alongside the Seine into a large riverside park.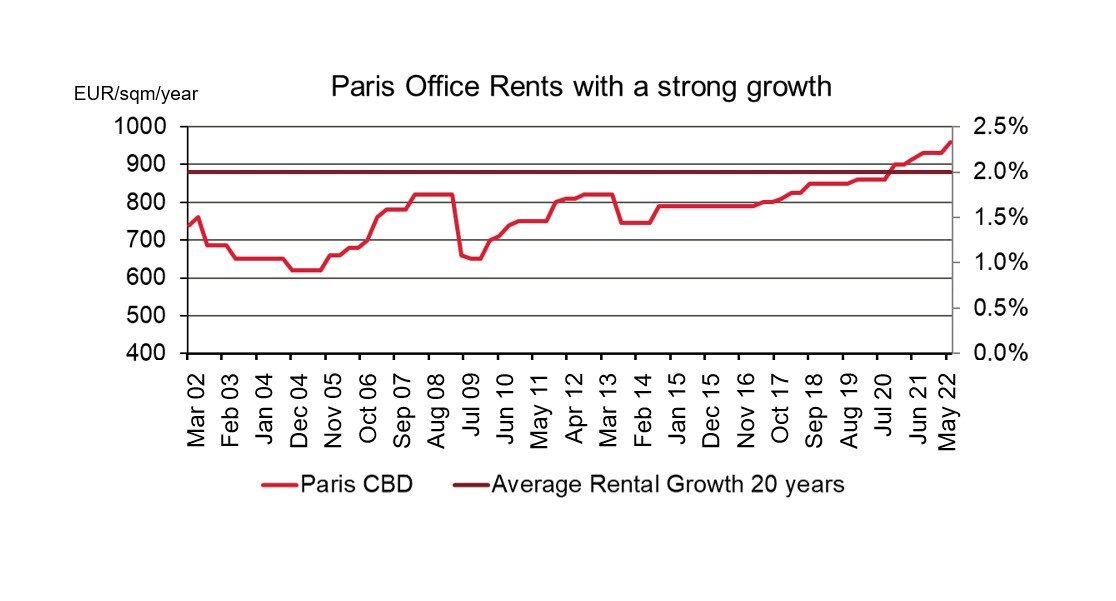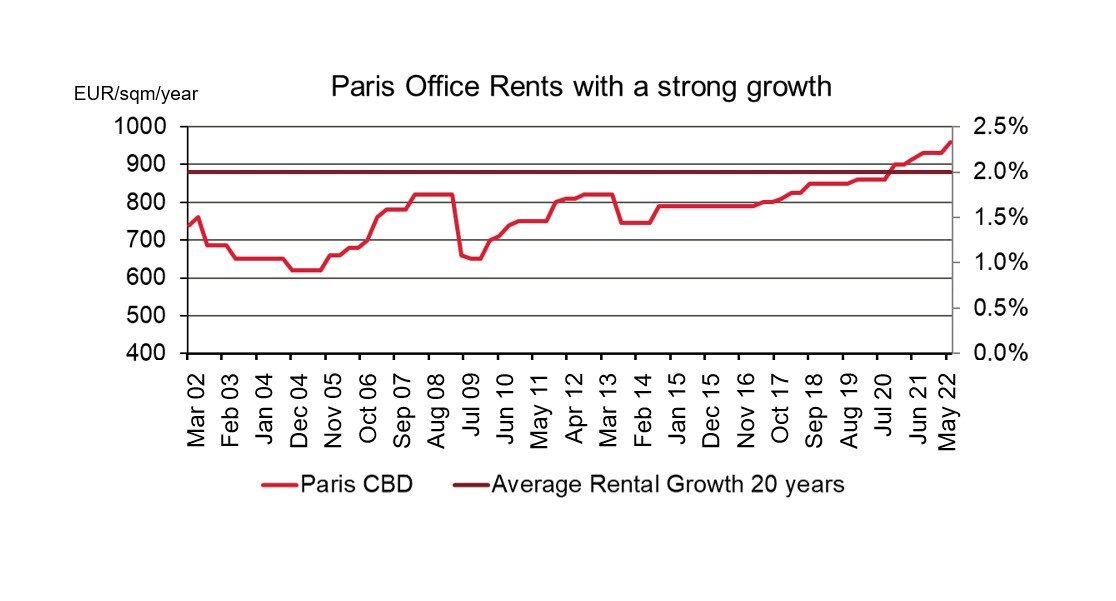 Central to the capital's vision is the '15-minute city' whereby residents can get to work and access all the services they need within a short walk or cycle ride of home. An additional boost for office workers is the Grand Paris Express, Europe's largest public transport project. When completed in 2024, this automated transit network with 68 new stations and 200km of track, will connect the seven million people who live in the capital and its nearest suburbs.
Paris is already a hub for key renewable energy providers such as Engie and Veolia as well as forward-thinking developers including Vinci, Bouygues and Nexity. Google and Facebook are among the tech firms that have recently opened offices in the city. With the addition of unique low-carbon developments, such as the eco-campus Paris-West backed by Swiss Life Asset Managers, we expect the City of Light will maintain its glowing reputation as a safe haven for investors over the long term.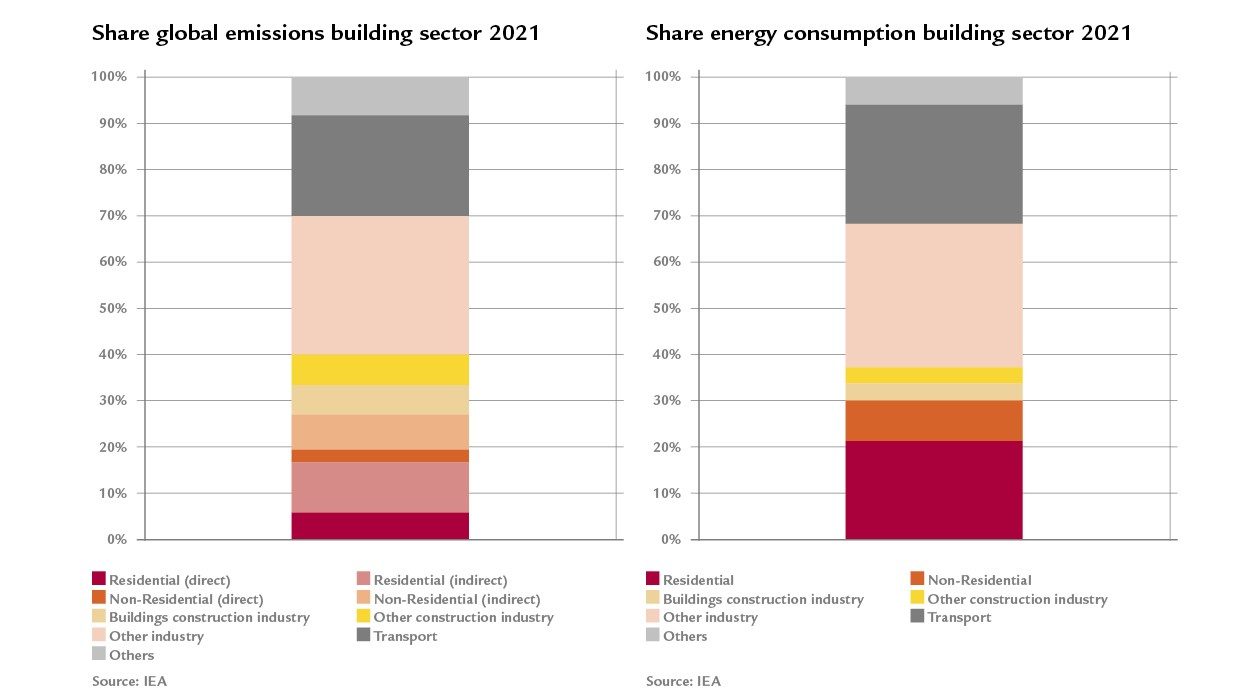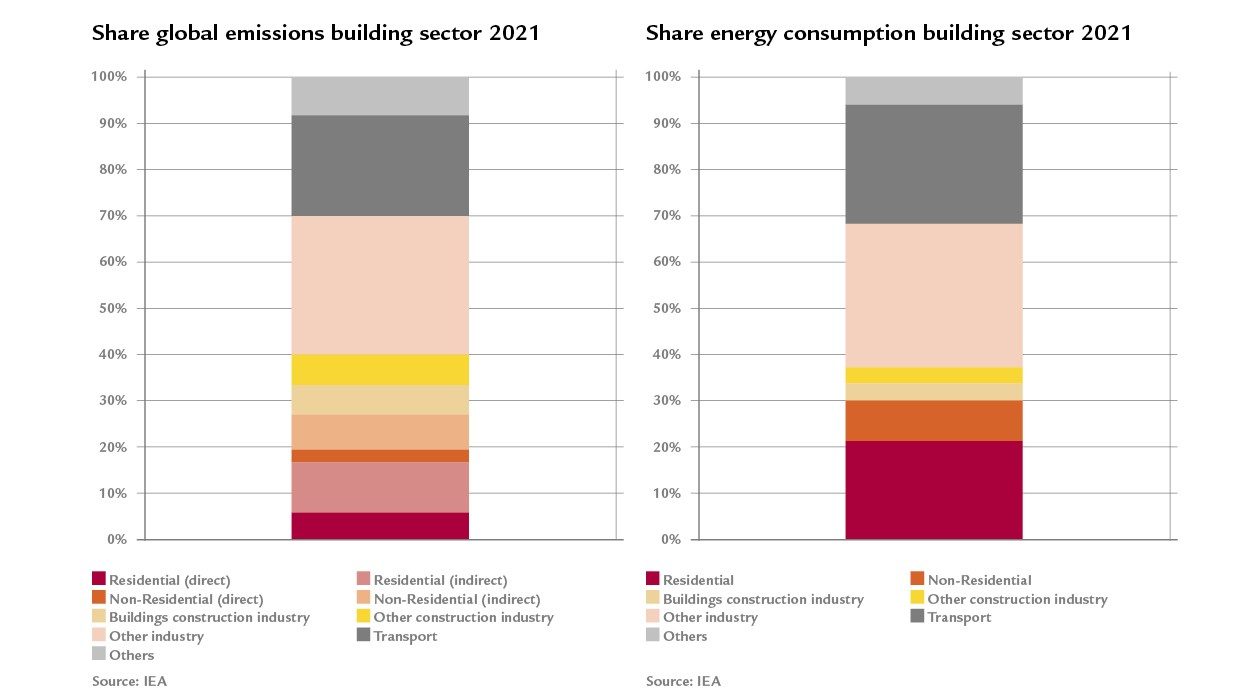 Eco-Campus Paris West: balancing workspace and sustainability
As a current and iconic example backed by Swiss Life Asset Managers, an office campus fit for a low-carbon future is fast taking shape on the edge of Europe's largest purpose-built business district. The eco-campus Paris-West is a complex of four buildings meeting best-in-class environmental standards and set in landscaped grounds in La Garenne-Colombes, a Paris suburb extension of La Défense, the capital's business quarter. Developed by Nexity on a former Peugeot Citroën site and due to be delivered in 2024, it will be the new headquarters for energy giant Engie. The future-proof development will have several environmental and social certifications including Breeam Excellent, HQE Excellent1, E3C12, Biodivercity, Wiredscore Goldand will have many beneficial features:
Low-carbon footprint: The campus will be heated and cooled with 100% renewable energy of which approximately 70% is produced on site (geothermal and photovoltaic).
Excellent transport links: The nearby T2 tramway will connect people to La Défense in six minutes from the city centre and the site is a short walk from two rapid transit lines due to open soon on the new Grand Paris Express network.
Comfort and wellbeing: The campus will provide comfortable and adaptable workspaces within a 16 hectare green and pleasant landscaped park, with provision for facilities such as a sports hall, nursery, restaurants and shops to be added.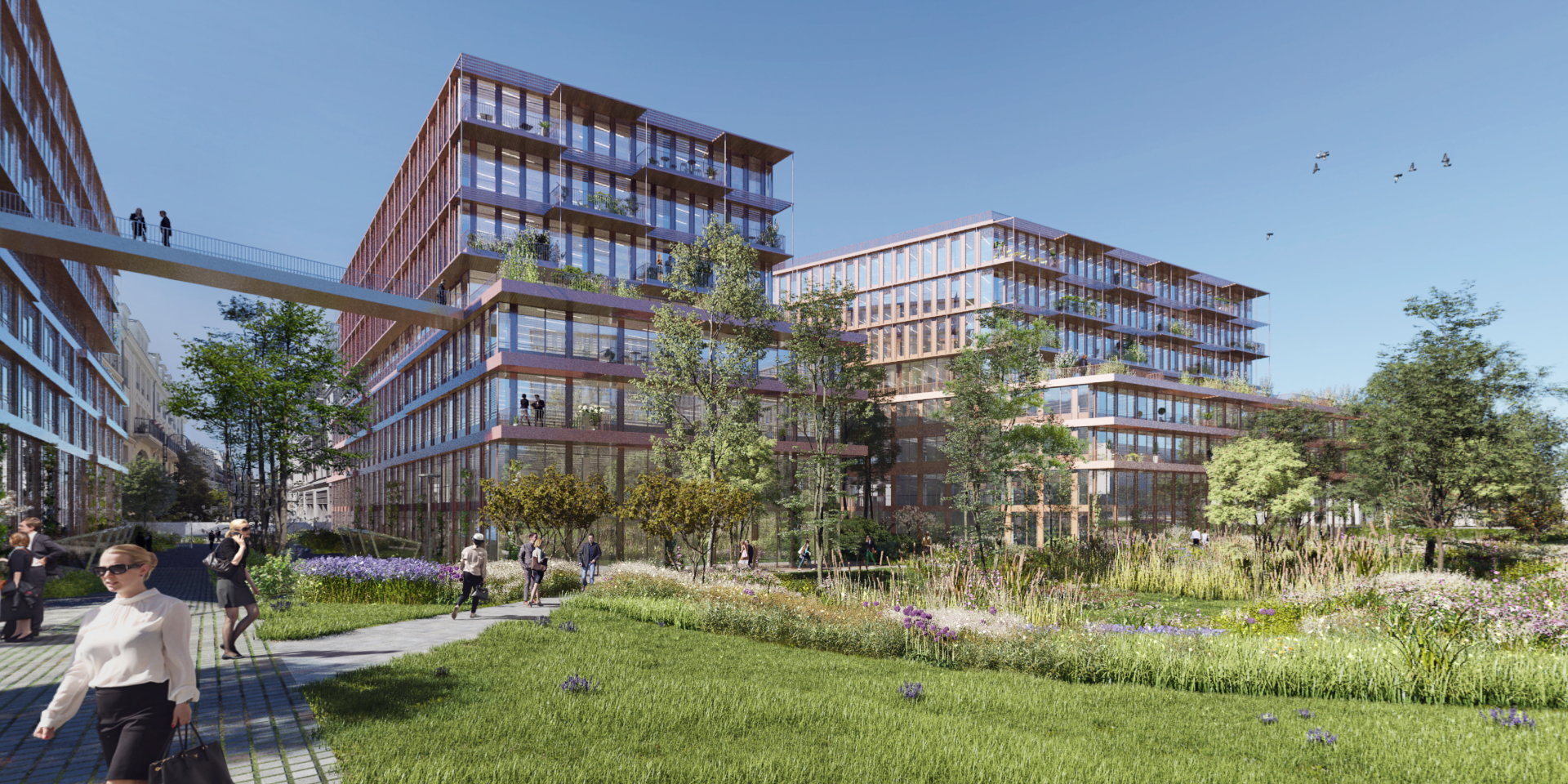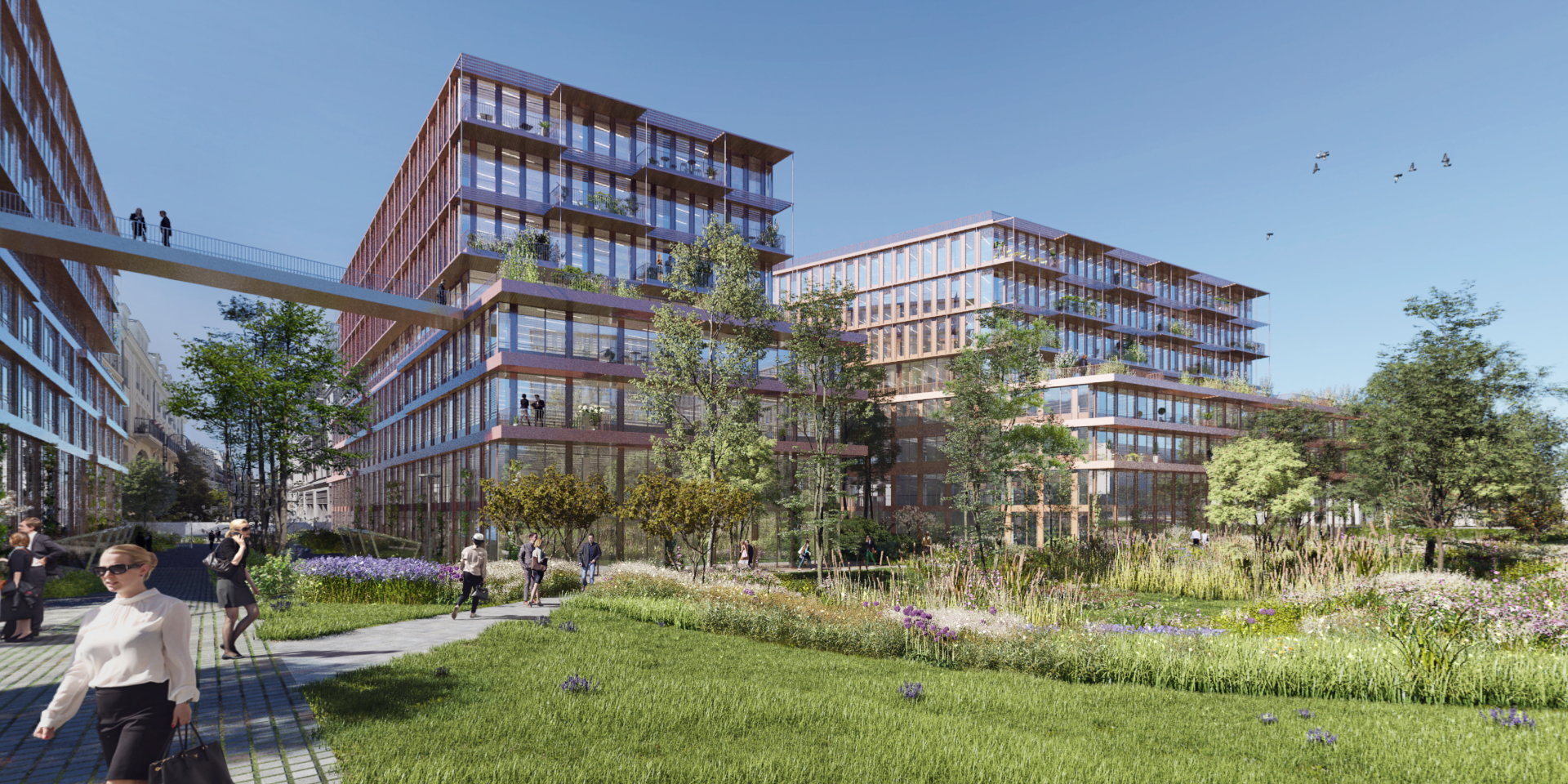 Our decarbonisation pathway
Environment, social and governance (ESG) aspects are embedded in our business strategy at Swiss Life Asset Managers, and we recognise both the risks and opportunities in this high-growth area. As a signatory of the Principles for Responsible Investment (PRI), we constantly work to ensure our business strategy aligns with the UN Sustainable Development Goals (SDGs) and Paris Climate Agreement.
Swiss Life Asset Managers is committed to reducing its direct real estate portfolio's CO2 intensity by 20% on 2019 levels by 2030, primarily by investing in solar power, low-carbon heating, cooling, ventilation and e mobility as well as increasing our in-house energy efficiency expertise. To keep us on track, we have developed a carbon reduction pathway tool in line with current best practice, setting interim targets that are monitored continuously and assessed annually.

1 HQE™ is the French certification awarded to building construction and management as well as urban planning projects. HQE™ promotes best practices, sustainable quality in building projects and offers expert guidance throughout the lifetime of the project. 
2 E+C- is a French experimental label launched at the end of 2016 by the French Ministry of the Environment, with the aim of foreshadowing the Environmental Regulation 2020 (RE2020).
Authors: Beatrice Guedj, Head Research & Innovation France and Francesca Boucard, Head Real Estate Research & Strategy at Swiss Life Asset Managers
Find out more here about the real estate use classes in which Swiss Life Asset Managers is invested.