In the past, the roofs of large logistics and commercial buildings were mainly empty, grey wasteland. Effective action against climate change requires new concepts, such as using spaces in a meaningful manner.
Wülfrath is setting a good example: under the joint management of Stadtwerke Wülfrath (municipal utilities) and Swiss Life Asset Managers, the largest roof-top photovoltaic system in North Rhine-Westphalia will be built on an area of 50 000 square metres by the end of 2023.
The city of Wülfrath, located to the east of Düsseldorf, has a population of just 21 500 and is best known for the Rheinkalk-Werk Flandersbach, Europe's largest chalk and limestone quarry. For some time now, however, the North Rhine-Westphalian city has also enjoyed public interest for another reason. In the coming months, a recently approved large-scale project will be realised on the former Ford factory site in Henry Ford II Street. Five commercial and logistics halls with a total rental space of over 50 000 square metres are being constructed on a site of around 100 000 square metres.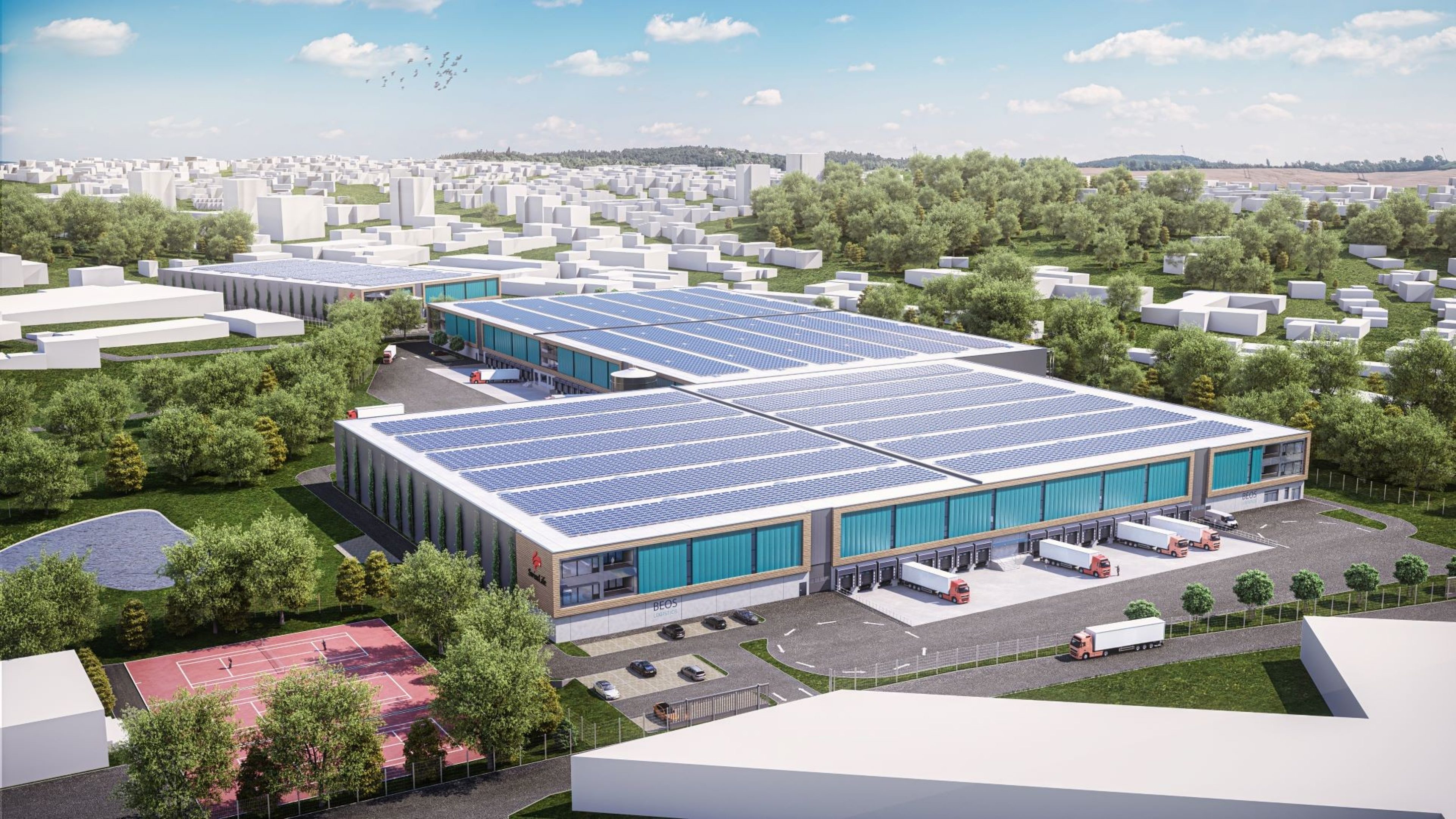 50 000 square metres of photovoltaics
While the future of the five commercial and logistics halls had already been defined and a wide range of companies will be located there in the future, it was not clear who a potential cooperation partner for the future of the space on the roofs of the halls might be. This period of uncertainty ended on 24 October 2022: on that day, Swiss Life Asset Managers found a suitable partner in Stadtwerke Wülfrath to conclude a long-term lease for the 50 000-square-metre roof area (around seven football pitches). "Having already let the entire building before its completion, we have now also found a strong tenant for our roof space, which further strengthens our forward-looking partnership with the city of Wülfrath. This shows once again the attractiveness of our sustainable development strategy, which is more important than ever," says Ingo Steves, Managing Partner Logistics at Swiss Life Asset Managers.
Heiko Schell, Managing Director of Stadtwerke Wülfrath, also emphasises: "We are very pleased and proud that we as a local company have been able to conclude a long-term rental agreement with Swiss Life Asset Managers for the roof space of the new logistics facility."
Green energy to combat climate change
The future potential of photovoltaics on roofs was recently highlighted by Germany's Bundesvereinigung Logistik (Supply Chain Network), among others. In a 2020 report, it estimated that the potential for installing PV systems on industrial roofs in Germany alone is more than 600 gigawatt hours (GWh). In this respect, too, the large-scale project in Wülfrath is a real flagship project for all involved. This is because during the course of the year, the municipal utilities will install the currently largest rooftop photovoltaic system in North Rhine-Westphalia with an output of around 4300 kWp on the logistics and commercial buildings. The plant consists of just under 11 000 photovoltaic modules that will be used by Stadtwerke Wülfrath to supply green electricity to approx. 1400 households – equivalent to around 15% of all households in Wülfrath. This avoids 1.2 million kilograms of CO₂ per year, and is a major step towards a climate-neutral future.
With this large-scale project, Swiss Life Asset Managers is setting new standards in sustainable logistics investments. In addition, this project also sends a signal to the market as a whole to use roof space on residential, logistics and commercial properties with new concepts to combat climate change and is a prime example of public-private cooperation.

Author: Leander Frank, Communications Manager, Swiss Life AM Germany