In Garching near Munich, Swiss Life Asset Managers is creating an innovative and pioneering office building. Due for completion by 2025, the SYN building is based on a timber hybrid construction and will be fitted out to a high standard.
Planned at Garching, which is a university, research and business hub, and designed by renowned Munich-based architectural firm Steidle, the modern and contemporary office building has been named SYN – as in synergy, synthesis, synapse or synchronicity. The name says it all: different businesses growing together in one location, with intelligent networking, a "connected workspace" and the development of new ideas.

Modern workspaces at SYN
With up to six floors and an above-ground area of around 9550 square metres, SYN offers modern workspaces for its prospective tenants. The available space ranges from 300 to 4050 square metres.
A top priority was to facilitate modern working practices. This required a high-standard fit-out and a flexible space utilisation strategy. The space had to be versatile in order to accommodate different types of work. A combination of open workspace and lounge areas will make it easier to transition between concentration-based and communication-based tasks. Food and beverage outlets such as a publicly accessible Vitalbar are also planned.
The two roof terraces, covering a total area of 230 square metres, will be landscaped to provide an inviting space in which to relax. Parking spaces, including several accessible ones, will be provided in front of the building and on two basement levels. Bicycle parking spaces and e-charging stations will also be available, and will encourage climate-friendly mobility.

Sustainability through meaningful synergies
The timber hybrid construction method follows sustainable building principles and improves the carbon footprint compared to conventional construction methods (reduction of approx. 14%). A Swiss company is providing the prefabricated load-bearing wooden ceilings. These wooden panels provide better sound insulation and room acoustics and meet the requirements of the REI90 fire resistance class. The spruce wood is PEFC-certified and is sourced from Austria, southern Germany and Switzerland. In addition to sustainability aspects, the advantage of the timber hybrid construction method is that it also ensures a healthy indoor climate. It is supported by a mechanical ventilation system, which also maintains the right levels of humidity. In addition, a combination of modern and efficient heating and cooling panels promote a pleasant indoor climate by means of radiation and convection.
While SYN's green roof ensures an improved microclimate, the use of photovoltaics and geothermal district heating guarantees a high level of sustainability. In addition, the construction of the SYN office complex is aimed at achieving LEED Gold certification for ecological building.
Building information modelling (BIM) forms the basis for the planning of the SYN project. This is a digital planning methodology that coordinates planning and decision-making processes, captures relevant data in a digital model and links it together intelligently. Since it allows collisions to be detected early in the design phase, it ensures efficient collaboration between all project participants as well as quality assurance – in other words, the main benefits are in process optimisation.

Transplanting instead of felling trees
Before any construction could begin or foundations laid, it was deemed to be necessary to free up additional space at the beginning of 2023 for construction site logistics and necessary site drainage. However, some hornbeam and maple trees stood in the way. Swiss Life Asset Managers decided not to cut down these trees but to have them replanted in consultation with Garching town council.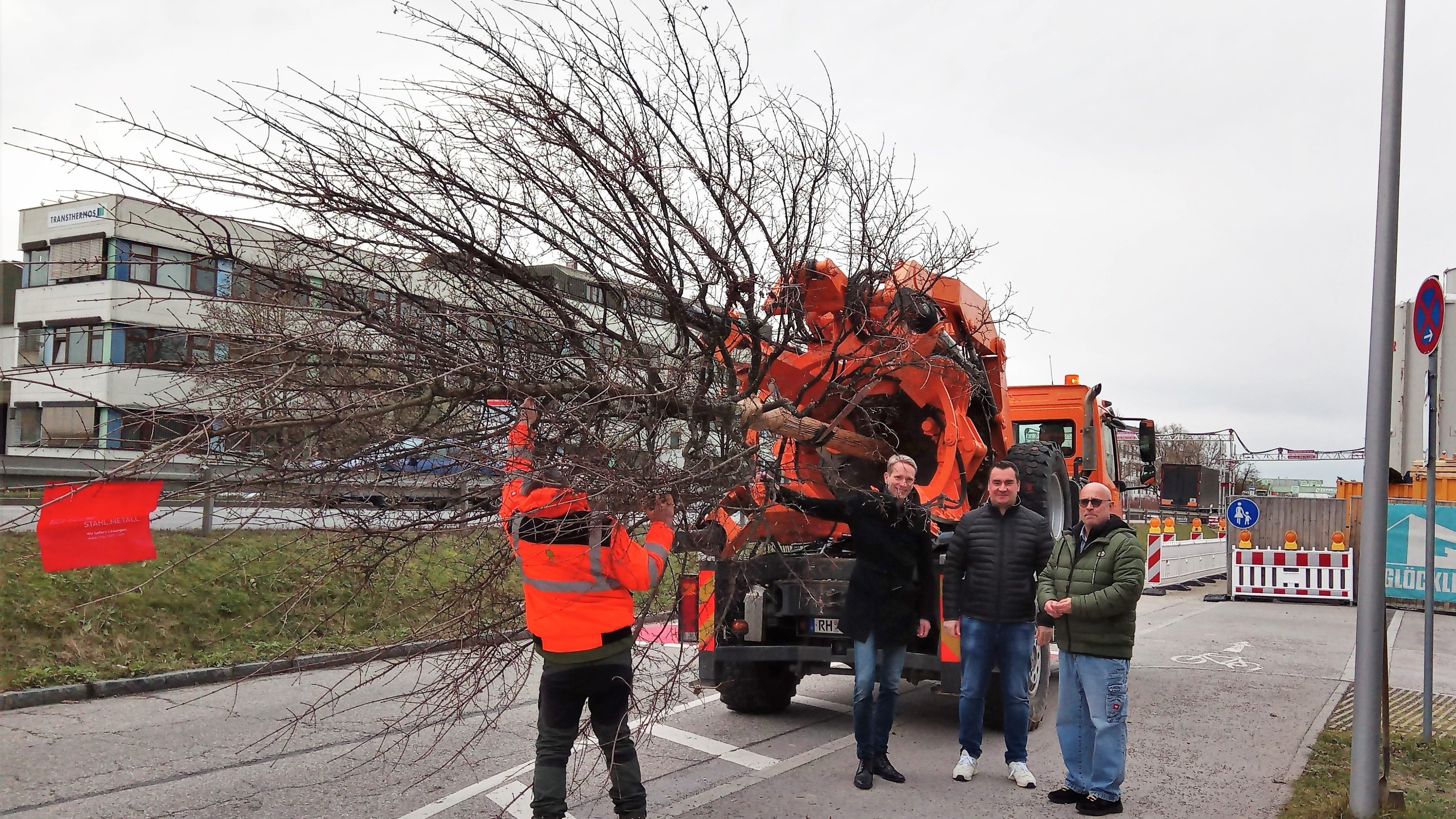 In mid-January, the time had come: with the help of a special vehicle, a total of ten seven-metre-high trees, including their roots, were lifted out of the ground and replanted in their new home – the garden of the local daycare centre for children. A special highlight for all those involved was the reaction of the children at the daycare centre, who watched the activity spellbound and wide-eyed through the windows. The trees now provide improved shading, which had previously been lacking, and a greener outdoor play area.
And what is happening to the area of site from which the trees were removed? New trees will be planted there once the SYN building is complete. With the existing trees replanted and new trees planned, the people of Garching will ultimately benefit from more natural and CO2-absorbing green spaces.

Laying the foundation stone – the first milestone
The foundation stone of the SYN building was laid in mid-February in the presence of an illustrious crowd. At the same time, a time capsule was also deposited in the foundation. The construction project is expected to be completed in the first quarter of 2025.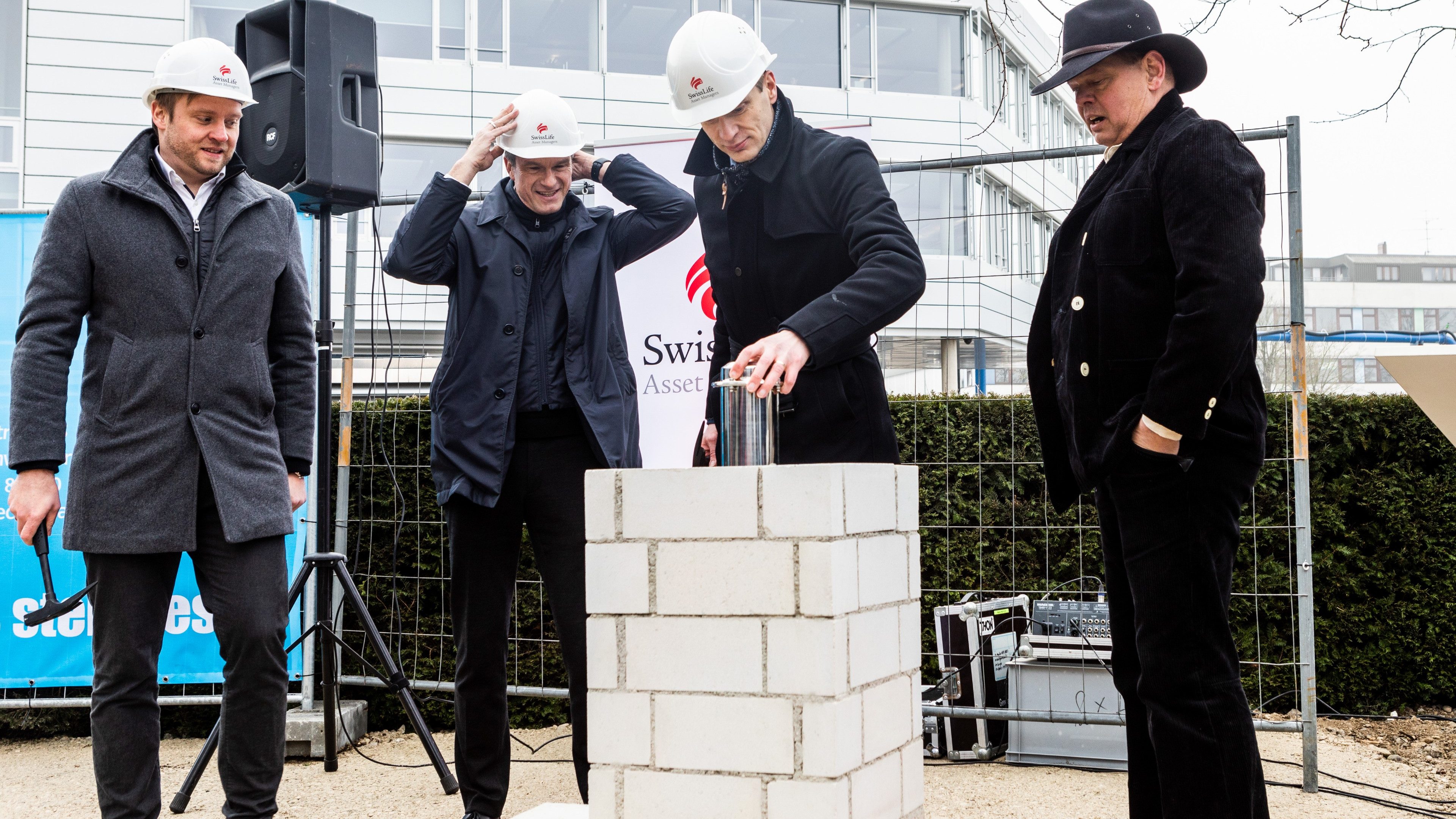 Leander Frank, Communications Manager, Swiss Life Asset Managers Germany