As an asset class, hospitality, is no longer a niche. The European hospitality sector has entered the big league by demonstrating its resilience, agility and diversification power over a long-term allocation. Values have been rebounding strongly since 2022, and France remains one of the key markets in Europe.
Robust recovery and diversification in Europe
According to MSCI1, capital returns related to hospitality remained positive across nearly all European countries in 2022. This is in stark contrast to the drops in capital values seen in the office and logistics segments. Unsurprisingly, markets driven by business demand showed lower capital returns compared to leisure markets such as France, Italy and Portugal.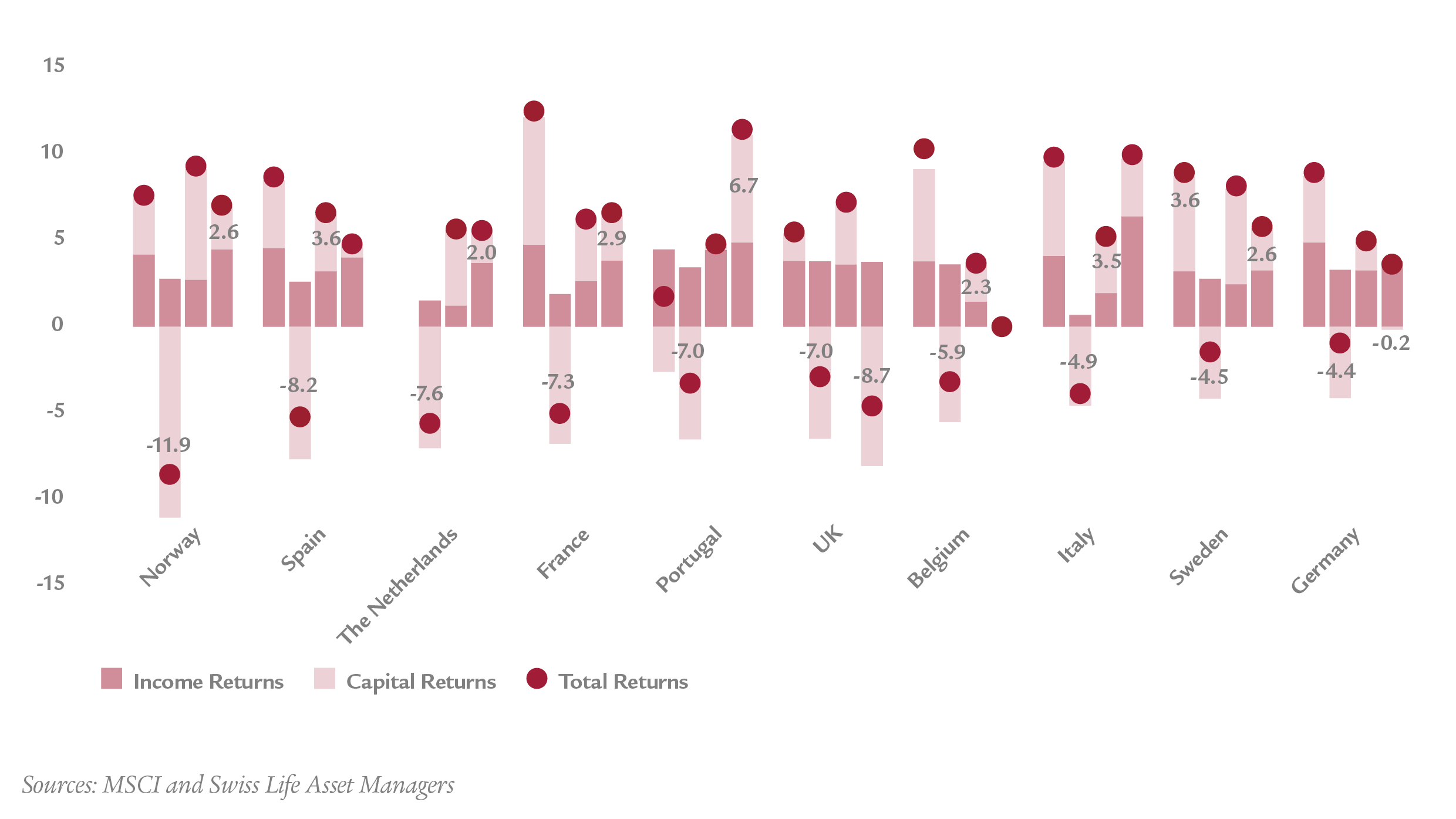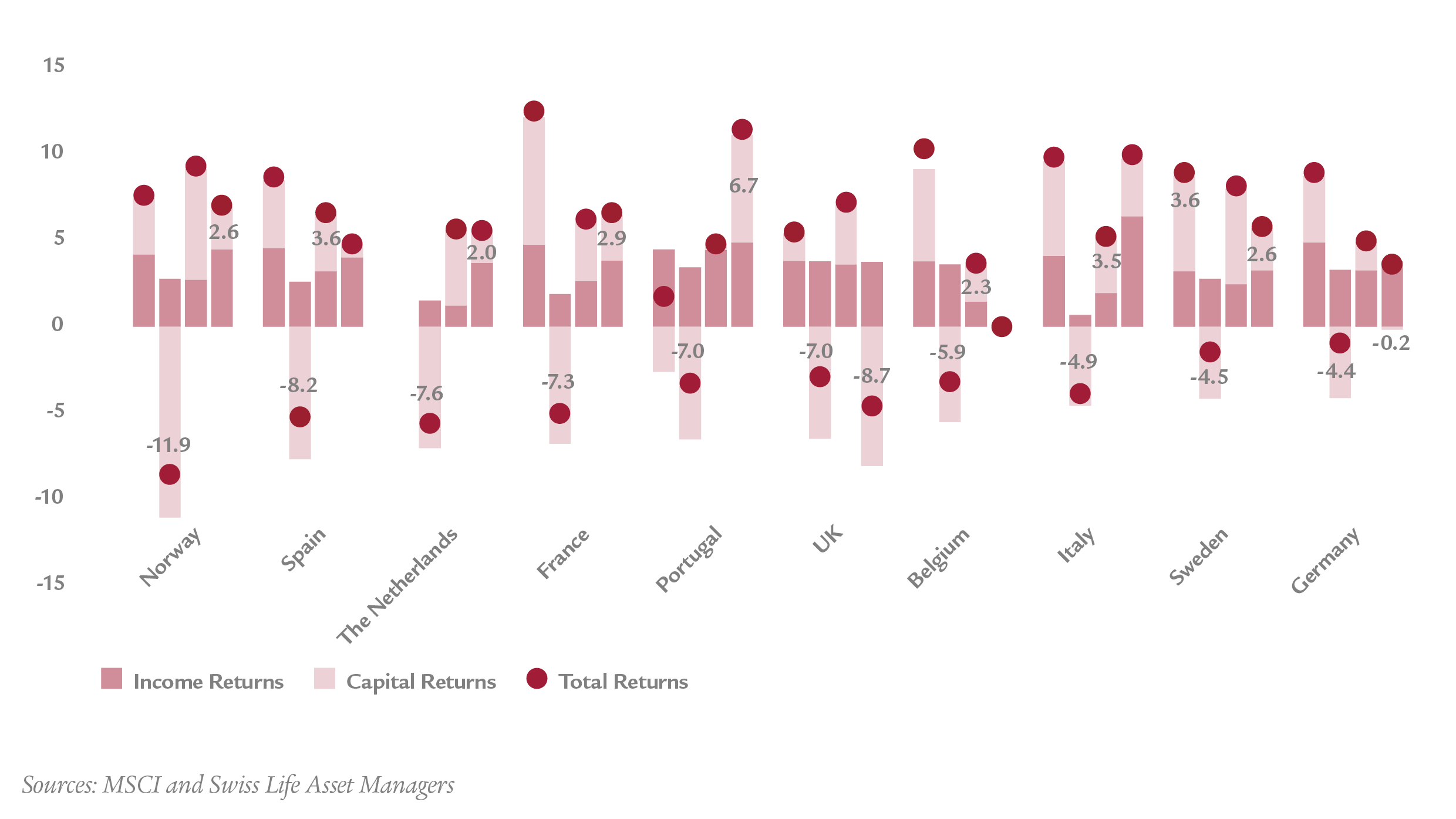 In 2022, investments in hospitality showed positive total returns in real terms, including both income and capital returns, such as for example in Norway, France, Portugal, Italy and Sweden, but were negative in the United Kingdom. In a context of a high level of inflation, these are noteworthy performance trends. More generally, the rise in capital value since 2021 has mitigated the drop observed in 2020, during Covid-19.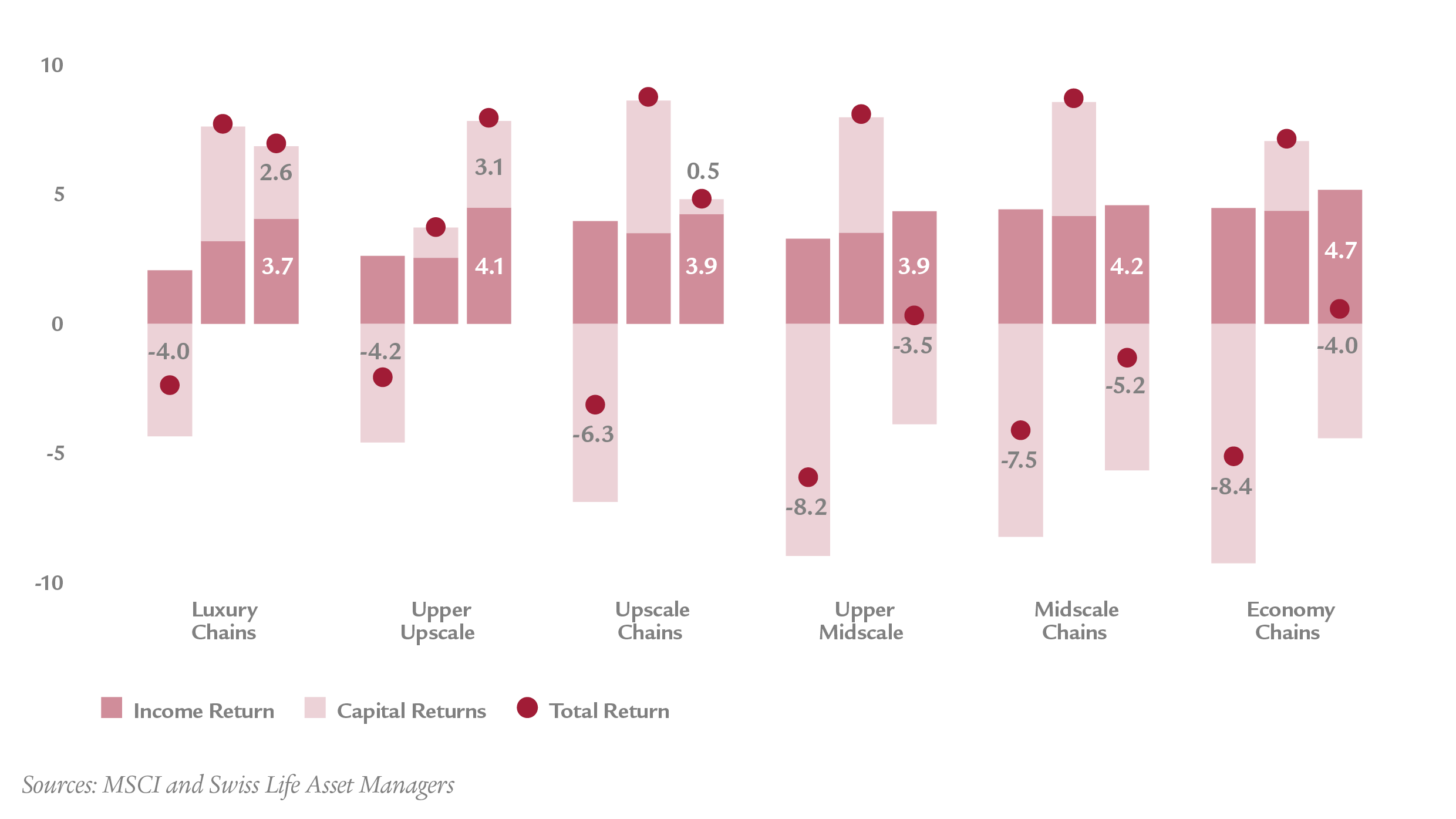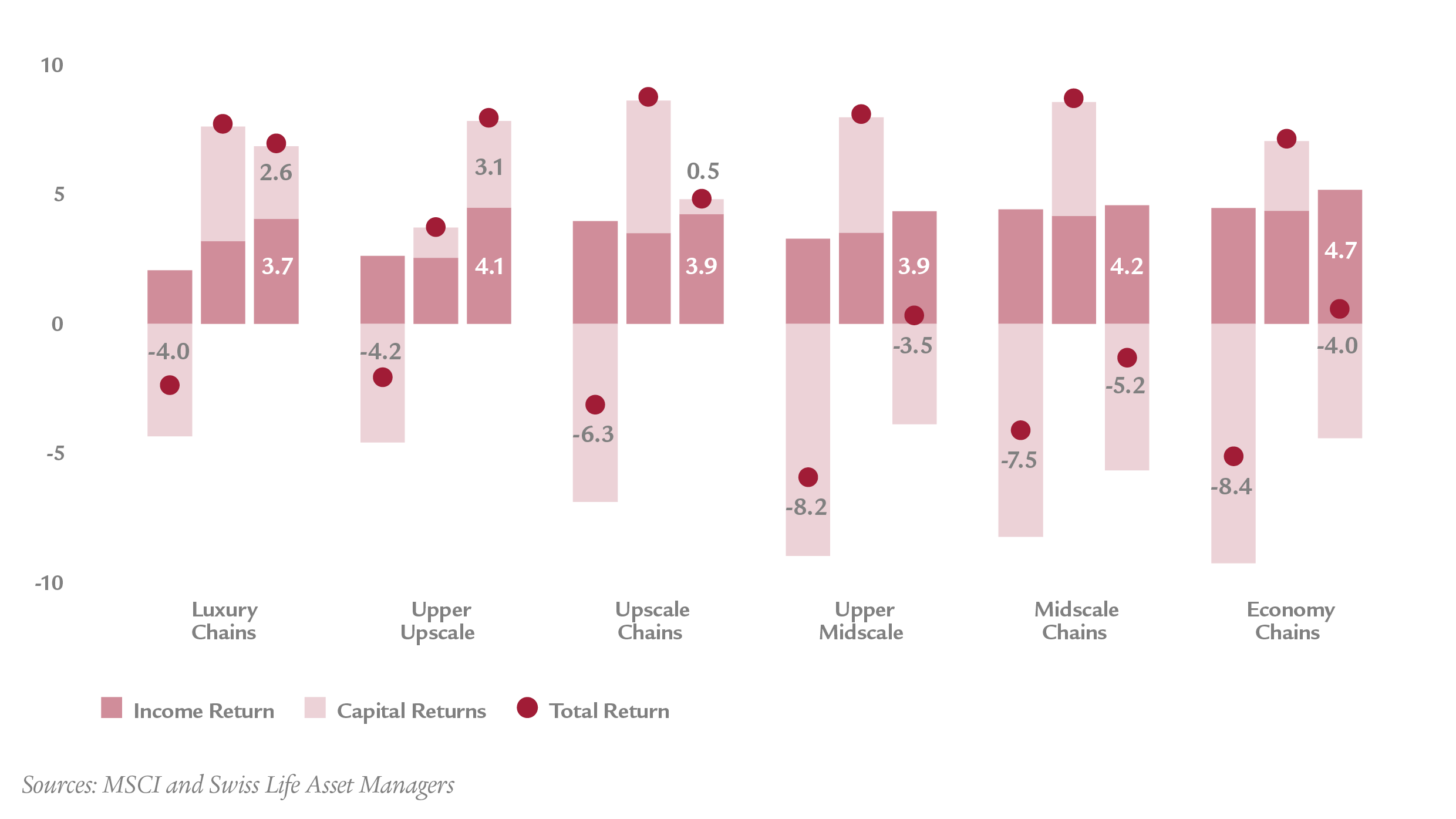 Digging down to a more granular level by segment, capital returns were positive on luxury and other high-end segments, while capital returns related to midscale and economy were negative, probably a bias related to the United Kingdom2.

In terms of transaction volumes, the hospitality sector has also shown a certain degree of resilience compared to other asset classes since 2022. Such a feature has been driven by the ability of the European hotel industry to structurally adapt to new demand requirements, in terms of lifestyle, leisure3 and eco-responsibility since the pandemic outbreak.
More interestingly, hybrid work has been structurally favourable towards the hotel industry given the possibility to work from anywhere in Europe. Hybrid work has been a strong driver in smoothing volatile seasonality and demand over time.
As of today, the European hospitality sector is viewed as a more mainstream asset class with investors targeting it in their future property allocations. The latest MSCI surveys have shown that 17% of institutional investors would currently invest in hospitality, as compared to the single digit figures of the past 10 years.
French hospitality leading the way
France is the leading hospitality market in terms of arrivals worldwide. In 2022, the sector made a strong rebound, sustained by both domestic and international demands. The average price for a room was up 16%4 compared to 2019, which means an increase of 10% in real terms when adjusted for inflation.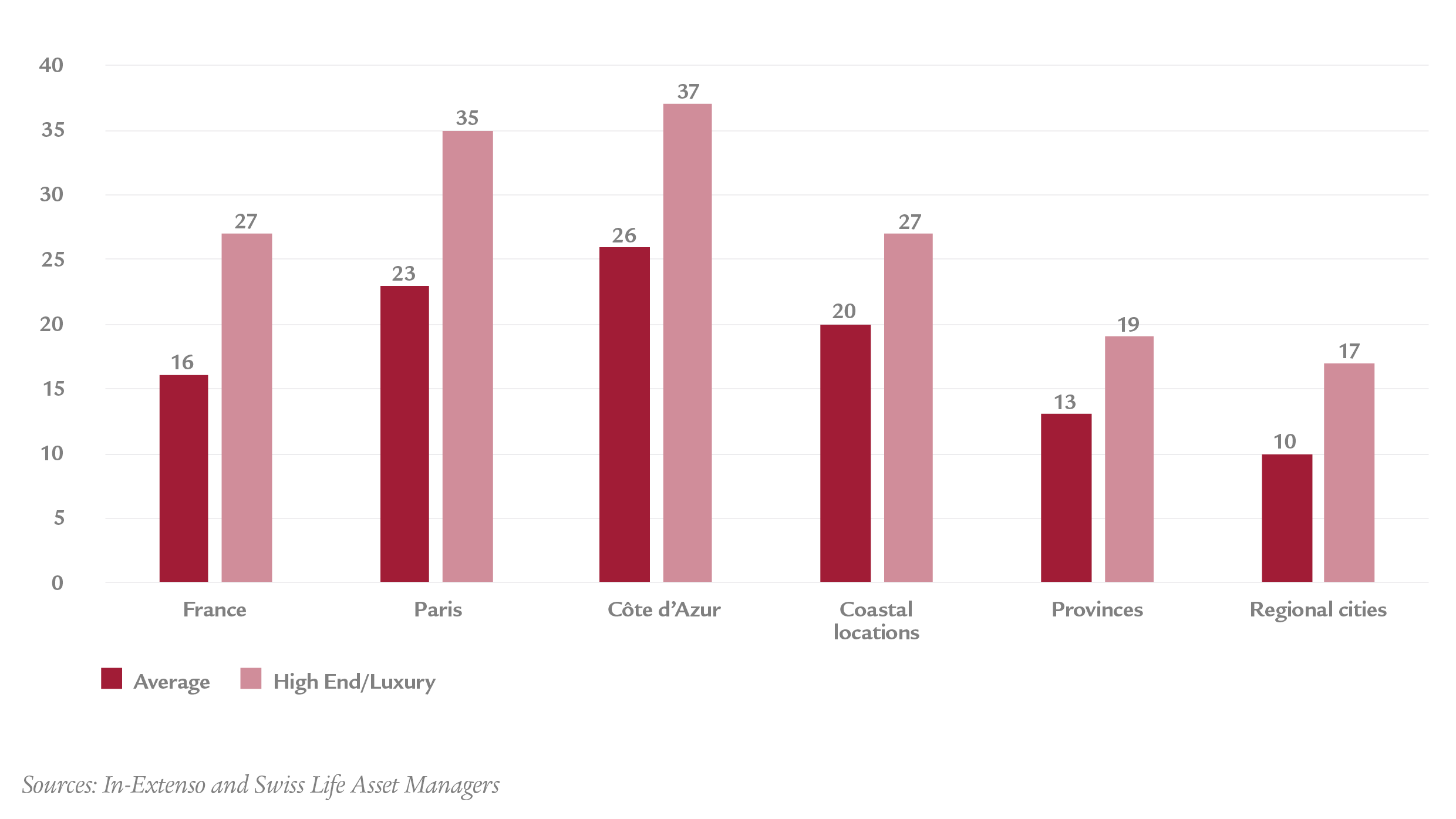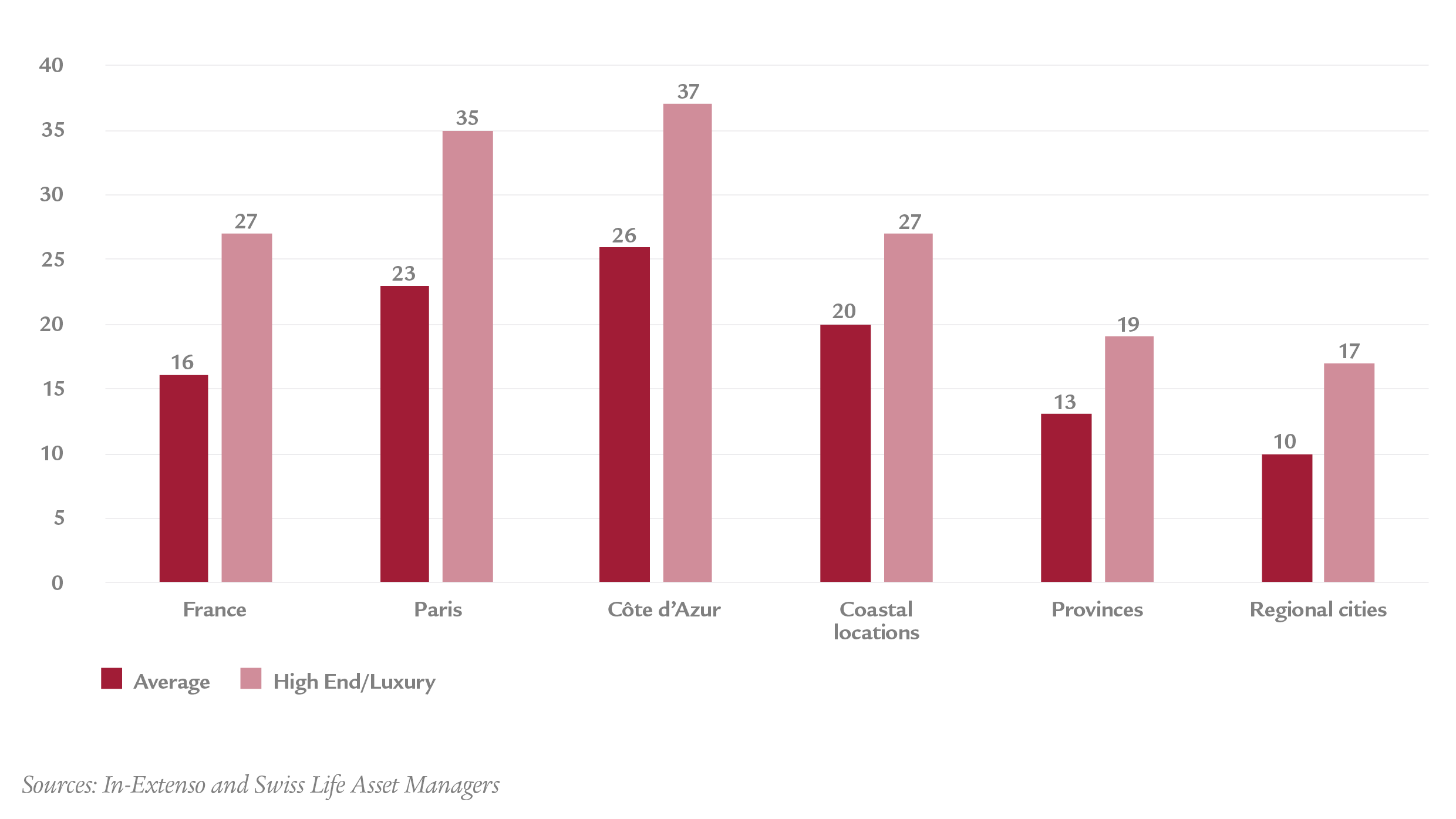 In a context of rising interest rates and high inflation, 2022 was characterised by positive surprises in many French segments and locations: the revenue per available room (RevPAR) in France was up 9% compared to its 2019 level, 3% in real terms, which is one of the strongest performances in Europe. In 2022, the high-end and luxury market recorded an average price increase of 27% compared to 2019 levels. Unsurprisingly, the rebound in turnover was faster in Paris (+18%) and in the French Riviera, (+18%) compared to other, more provincial locations (+7%).
In 2023, preliminary numbers as of late summer have continued to be positive across the country. American, Japanese and Chinese travellers are back, although their levels remain below those of 2019. Turnover has thus far been mainly sustained by their French and European peers. In the short term, the Rugby World Cup in the second half of 2023 and the Olympic Games which will take place in 2024 are expected to help sustain the sector within the context of a global slowdown.
Over the medium to long term France is set to remain on top of investors' preferences: it is the third largest market in Europe behind Spain and Italy, it has a well-diversified and modern supply stock, as well as balanced sources of demand, all of which help to boost investor confidence in the French hospitality market as a whole.
1 MSCI is a leading provider of critical decision support tools & services for the global investment community
2 An effect of sampling of the European MSCI benchmark, very heavily weighted by the UK (42%)
3 Business & Leisure
4 According to In-Extenso