Real estate investments based on long-term structural trends offer stability, particularly in times of economic uncertainty. Modern corporate and logistics real estate meets these requirements, as a glance at Germany shows.
Much of economic life, such as providing the population with essential services or producing goods, relies on the use of corporate and logistics real estate. Logistics real estate ranges from large-scale, national distribution centres to small last-mile facilities that ensure prompt delivery to consumers. Corporate real estate includes a broad mix of spaces for production, research and development, storage and offices, which can be divided up differently within each facility. This type of real estate can be found across Germany, but is concentrated in the core economic areas.
Weak supply chains lead to increased inventories
As in other European countries, demand for these types of real estate has been growing in Germany for years due to a series of fundamental changes. In the face of increasing geopolitical contradictions, the war in Ukraine and previously existing supply chain problems, governments and economic stakeholders are currently doing all they can to reduce dependencies. This is particularly true for economies characterised by a high number of globally operating companies. If domestic production is expanded or is moved back from abroad to the original country (reshoring), local demand for space will rise accordingly. In order to strengthen supply chains, many companies are currently choosing to increase their inventories, but quite a few are also bringing more production operations back in-house, as surveys among businesses in the manufacturing sector show.
Measures to secure supply chains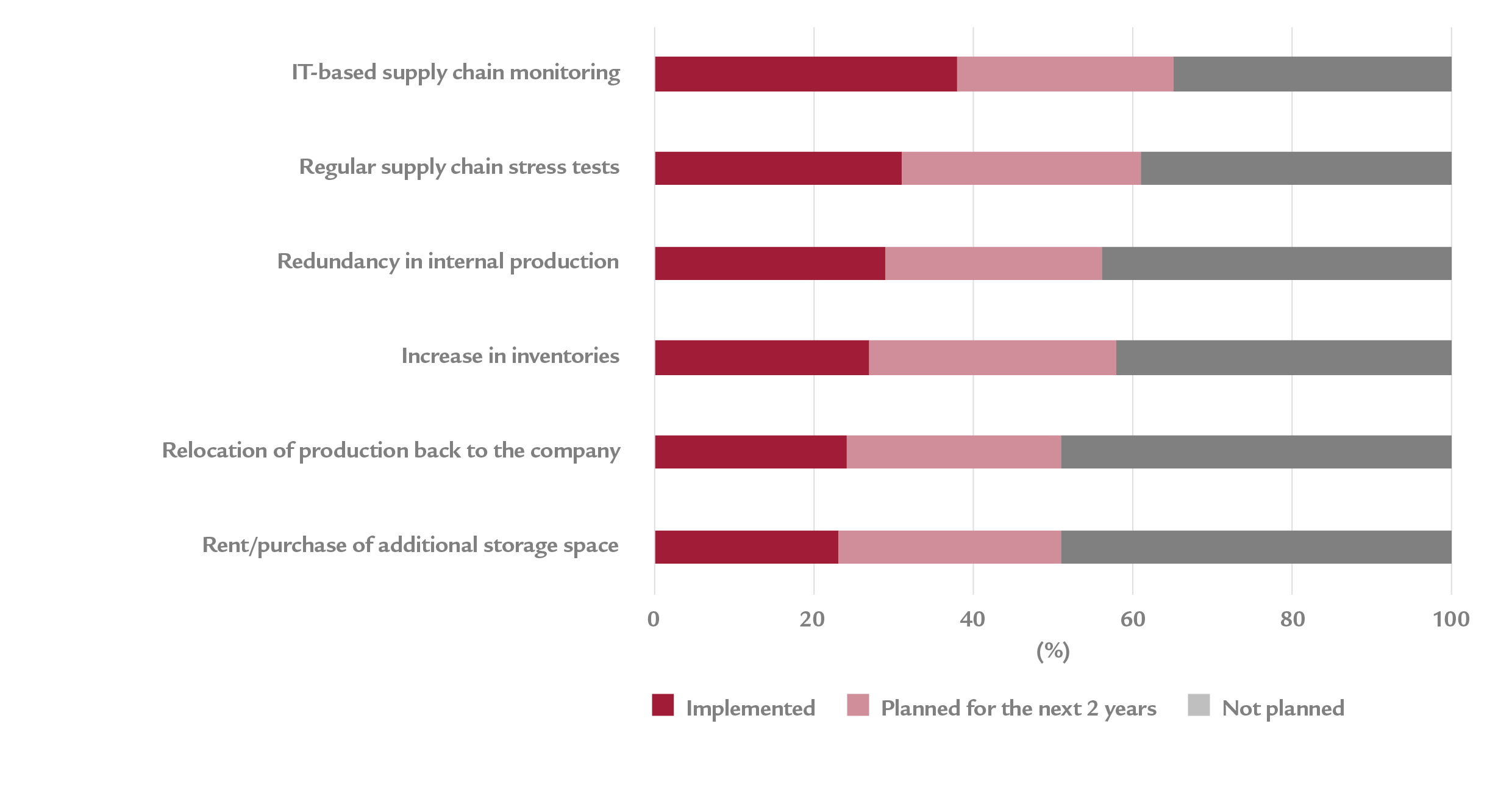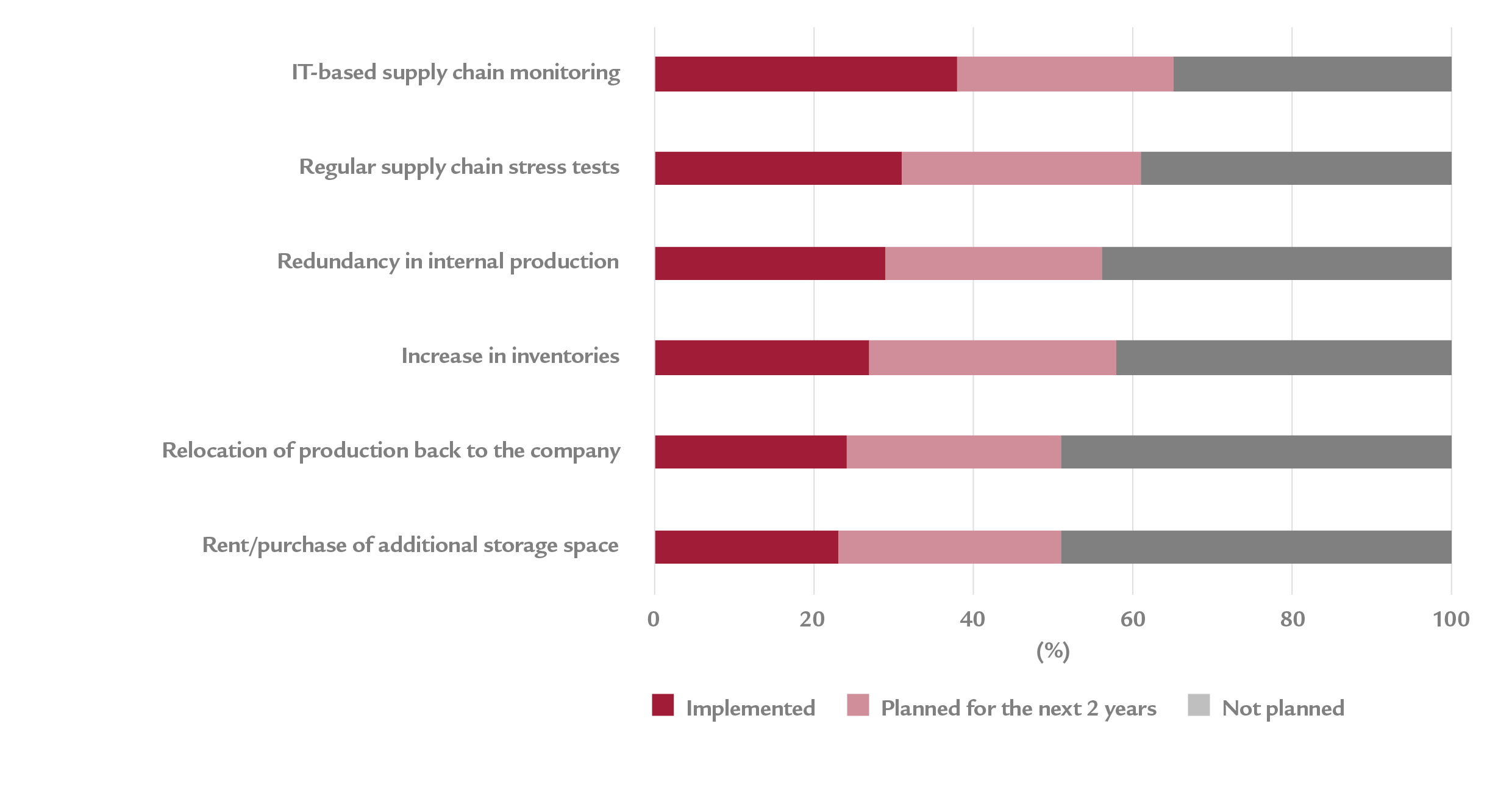 Rising online sales drive demand for space
Fast, convenient, affordable: e-commerce has been driving demand for logistics space for years, but this sector saw particularly steep growth during the pandemic lockdowns. In the current economic environment, due to high inflation and the erosion of purchasing power by energy prices, not only are general (i.e. bricks-and-mortar) retail sales falling, but so too for the first time are online sales, although they are slipping from a high level due to a very strong year in 2021. According to retail experts, however, online sales are likely to continue to grow in the coming years, meaning demand for logistics space will also increase further. As a rule of thumb, growth in online sales of one billion euros will lead to demand for space increasing by around 100 000 square metres.
Furthermore, new production methods are transforming the manufacturing sector in particular and creating additional demand for modern production spaces, which fall under the umbrella of corporate real estate: if production processes are digitalised (in line with the Industry 4.0 trend), this will result in smaller-scale, demand-driven production close to customers and require state-of-the-art equipment in the manufacturing facilities. Many economic regions in Germany, including the metropolitan areas of Munich, Berlin and Stuttgart, feature among the top European locations with Industry 4.0 clusters.

Europe's top regions for Industry 4.0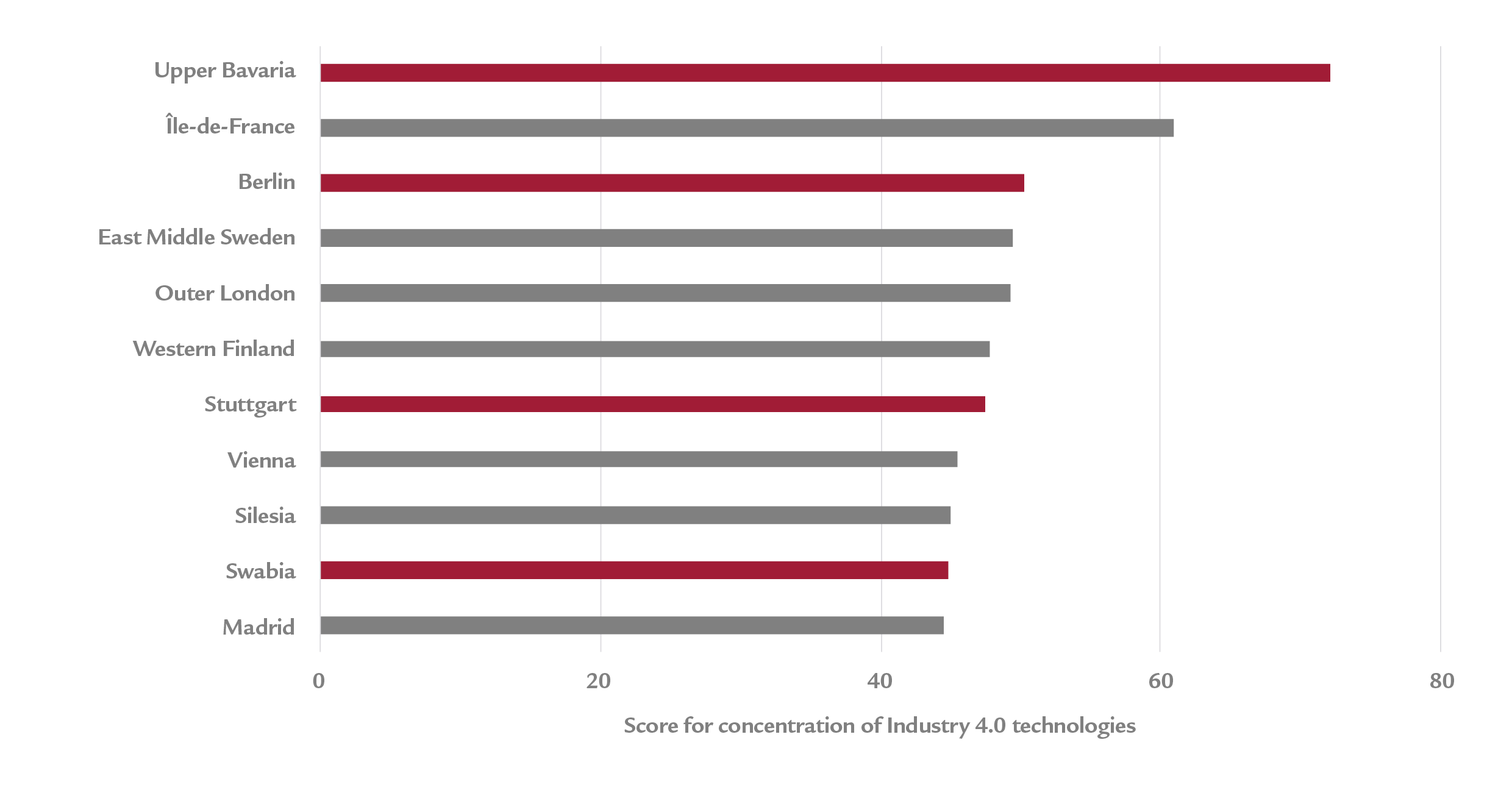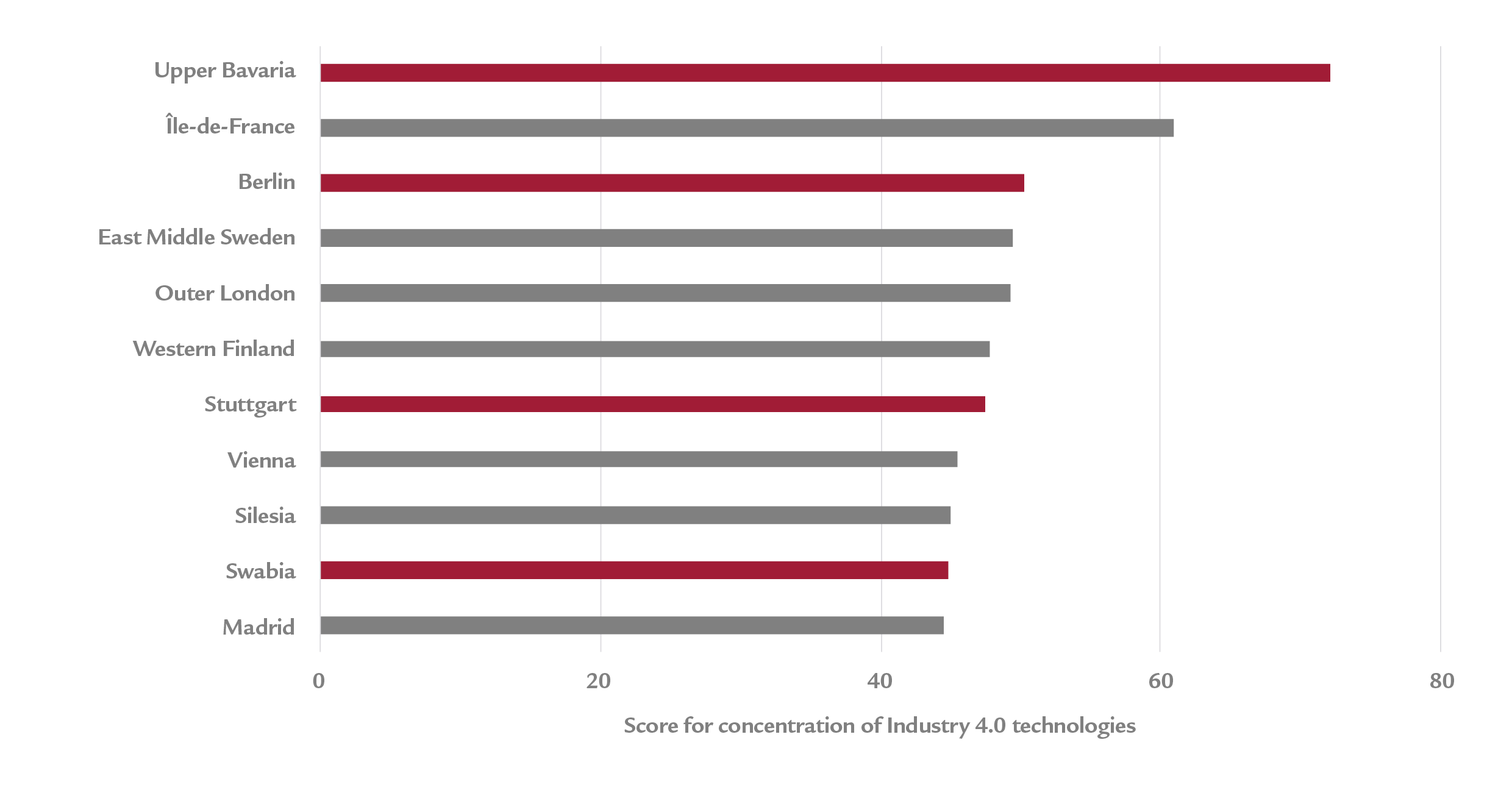 Tenant diversity proves to be a strength
The example of manufacturing companies as users of corporate real estate highlights the very broad range of tenants in such properties, both in terms of company size and industry sector. The spectrum ranges from start-ups for new products to all kinds of service providers as well as public institutions. Although large corporations also account for a share of tenants, the vast majority are small and medium-sized enterprises. This diversity of tenants also has its advantages in the current environment of economic uncertainty and unpredictable energy supply and costs. While many SMEs are feeling the effects of rising energy costs, these are manageable for most because their manufacturing activities are not energy-intensive. As they tend rather to be users of office or storage space, for example, they are "only" affected by increasing operating costs. Regardless of the current environment, the ongoing general structural change is stabilising, as fast-growing sectors such as life science, e-mobility or robotics are able to offset a declining demand for space in other sectors of the economy.
Recent developments have shown that the corporate and logistics real estate sectors can also be temporarily affected by economic fluctuations. Investors, however, will focus on the long-term prospects in the industrial and logistics real estate sectors, which remain promising and varied in nature. On the investment market, sharply increased transaction volumes are a reflection of investors' interest in this sector. However, it remains under-represented in most investor portfolios in terms of sector diversification. Successful investments require modern, well-managed properties that can also be adapted to the needs of their users in the future. ESG measures are very important here, in particular the fulfilment of energy standards in order to keep ancillary costs as low as possible for tenants.
In 2020, Swiss Life Asset Managers expanded its product range for institutional investors to include an investment solution for corporate and logistics real estate in Europe, to also offer investors European diversification of rental income and flexible uses in these two sectors.