Living and working in cities is reaching its limits. But the latest vacancy figures prove that cities retain their magnetic effect. Their public spaces and densification potential continue to offer the greatest growth opportunities.
Over the past 30 years, the resident population in of Switzerland has grown from 6.9 million to 8.7 million. The number of employees increased from 4.2 million to 5.2 million. Growth is concentrated in urban centres. More and more jobs are being created here, especially in the ever-growing service sector, which accounts for 90% of the workforce. In general, people settle where jobs are easily accessible. But the supply of housing is limited. In addition, hybrid working models are changing residential preferences. Has the cities' potential been exhausted?

Supply-driven growth
Meanwhile, a gap is opening in population growth: in the cities it is relatively low at 0.7% per year, while in rural areas it is 0.8% and in the commuter belts and agglomerations it is 0.9%. However, this longer-term development mainly reflects one thing – there is not enough housing in the urban centres. According to the Wüest Partner AG / Baublatt data, 20 years ago well over 80% of all rental apartments were built in cities. Then suburban and rural areas caught up. Now, around a third of all rental apartments are being built outside the cities, mostly in the suburbs. In 2022, residential construction in cities actually plummeted significantly. This is probably due to the rise in construction costs, the scarcity of land available for construction and regulatory hurdles. 
The sliding annual total of housing units approved saw the greatest increase in suburban areas (6%) compared to the previous year, while it fell by 19% in cities. Households reacted with changes in relocation
patterns. The pandemic reinforced this trend.
Changes in migration patterns
During the pandemic years, most employees spent much of their working time at home, whether they wanted to or not. This eliminated the need for daily commuting, and the distance between work and residence began to play a subordinate role. As a result, many people looked for a new apartment in
a self-determined manner, which could well have been further away from work. This also changed the pattern of internal migration, shifting to suburban and rural areas. Whereas there were between three and five new arrivals per 1000 inhabitants before 2020, this figure has risen to between eight and nine in the
past two years. On the other hand, two persons per 1000 inhabitants left the urban area, whereas previously it was on average one person. 
If we look at immigration from abroad, which was higher overall in the two pandemic years, we see a slightly different picture. The cities with between seven and eight immigrants per 1000 inhabitants are in first place. This is because newcomers usually move to their first place of residence in the immediate vicinity of their workplace. This means that cities are continuing to grow, albeit at lower levels than before the pandemic. 
Vacancy rates still low
In addition to the labour market, the high density of cities also makes them attractive. Creating more space on a smaller area and being able to benefit directly from public infrastructure and squares generates
significant added value. Wüest Partner AG has evaluated 260 000 rental agreements from 2005 to 2021. Result: Public spaces and prestigious squares in cities affect the prices of rental apartments by over 10%. Quality is picking up. This is another reason why vacancies in most cities are two percentage points below the Swiss average.

Above-average demand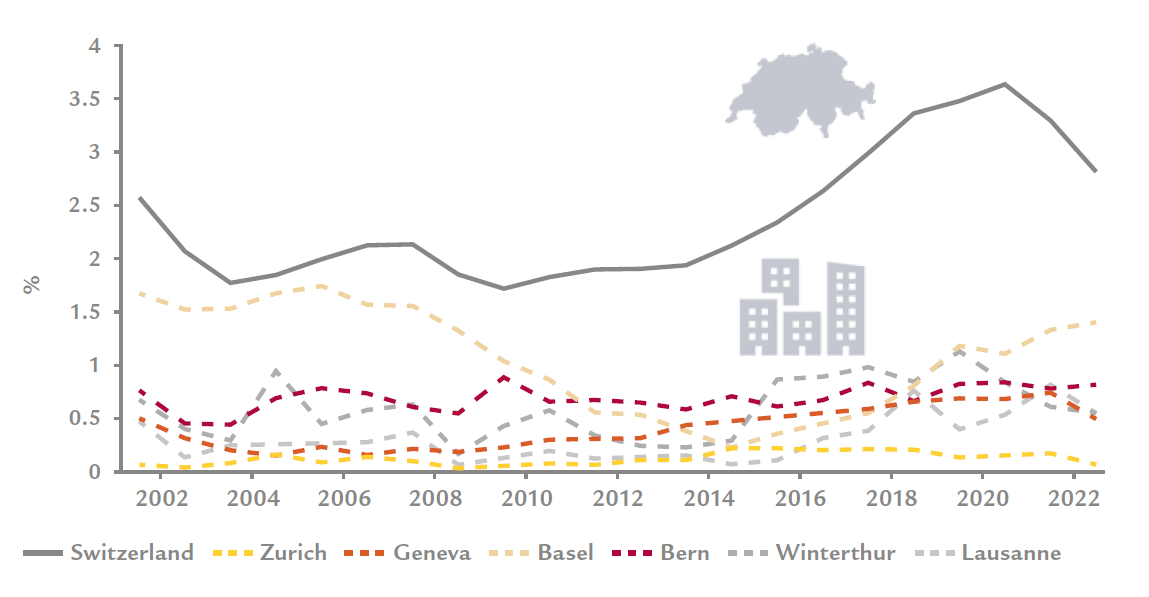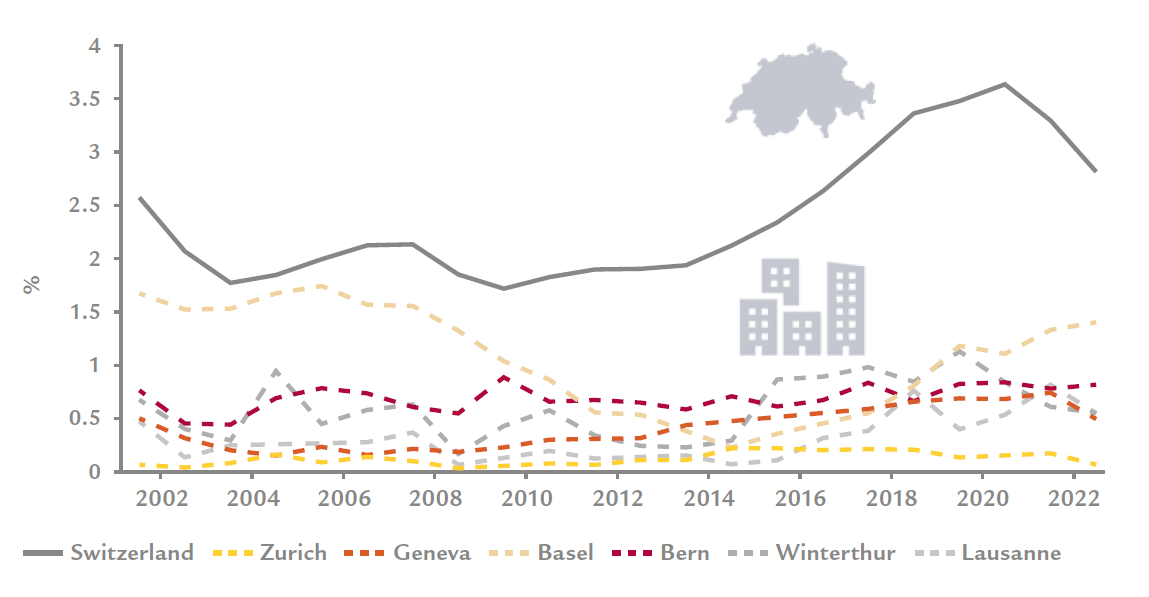 Inward before outward development
For political and legal reasons too, living and working are concentrated in the cities: in 2013 the voters approved the Spatial Planning Act – settlement development is now following an inward approach. Spaces that have already been built up will be densified by targeted real estate development. The aim is to build and expand in areas that people are drawn to, and where the social and transport infrastructure already exists. The potential of the internal reserves is as great as that of the land that is still undeveloped. A study by ETH Zurich shows that the estimated internal use reserves can be used to create housing for up to 1.4 million people in areas that have already been zoned. This is more than the population of the six largest Swiss cities
combined. 
According to the Swiss Federal Statistical Office (FSO), with rising life expectancy and further increases in net immigration, the population will rise to 10.4 million (+1.8 million) by 2050. Broken down into the larger municipalities, it is still the cities that will grow as a result. Population and employment forecasts predict that
this trend will continue. Over the next ten years, annual growth in terms of employees and population is likely to be above the Swiss average in cities such as Zurich, Geneva, Winterthur and Lausanne.
Growth more accentuated in cities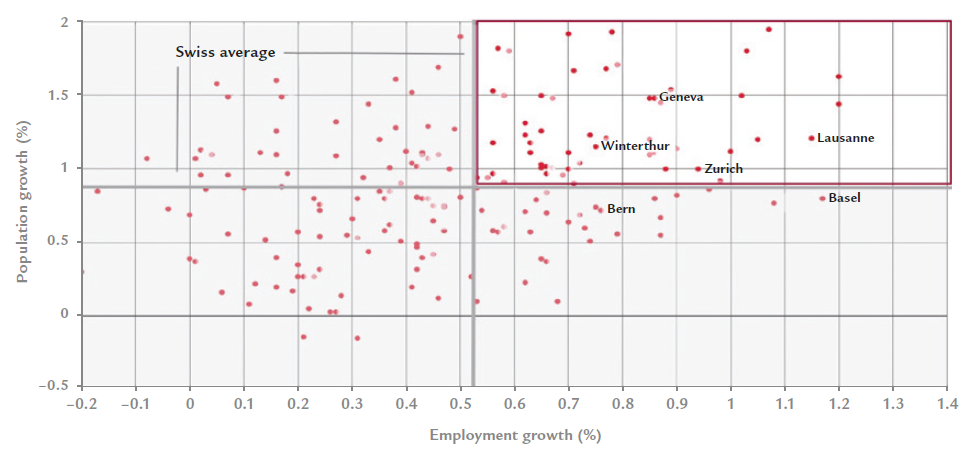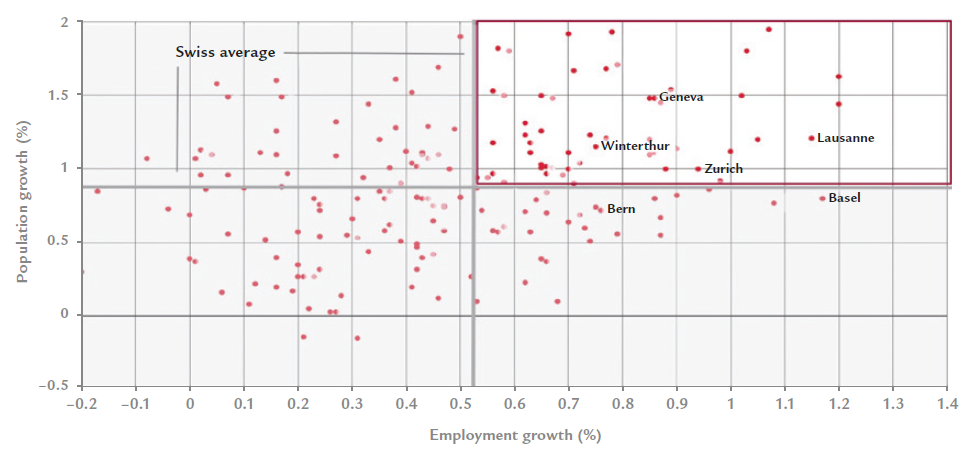 Investors with a long-term orientation would do well to consider the potential for densification and to
invest in public spaces and infrastructure. Even if growth in cities is likely to be more moderate than before, a large part of their internal reserves is far from exhausted. Swiss cities have only just begun to pave the way for future growth by inward developing.